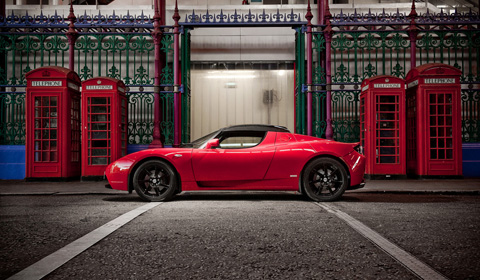 Top Gear is praised by many, but the show has also received much criticism for its content and comments made by presenters. Just one month ago the Mexican ambassador in the UK demanded an apology when the presenters of the BBC show mocked the Mexican Mastretta sports car on account of it being designed in Mexico. Now Top Gear is being sued by Tesla.
The seventh episode of the twelfth season featured a test with the Tesla Roadster. Apparently the electric sports car failed to fulfill its promises. After dramatically slowing down on the track, the car was seen being pushed into a garage to await charging. Presenter Jeremy Clarkson concluded: "It's just a shame that in the real world it doesn't seem to work."
Tesla Motors, the Silicon Valley-based company that designs, manufactures and sells electric vehicles claims that Top Gear faked the test with their car. According to Tesla, the episode that aired contained lies and misinformation about the Roadster's performance, behavior and reliability. The Californian company accuses Top Gear of defamation and malicious falsehood, for example, the allegations that the brakes had also failed were false. Tesla claims Top Gear 'intentionally and/or recklessly, grossly misled potential purchasers of the Roadsters'. Its reputation 'has been severely damaged', it added.
Tesla became aware of the staged scenes when the UK director of sales and marketing saw two scripts before the car had even been driven. The electrical sports car manufacturer says it was forced to act:
We have repeatedly complained about the inaccuracies and have asked the BBC to correct them, but they ignored us. The BBC's conduct has given us no choice but to sue them and clear up their lies.
Tesla even made a special website for this issue, where the people can read the background of this case and the complaints. For those interested, you can read Tesla's lawsuit here.
What do you think, has Top Gear gone too far?
[Via the Daily Mail]