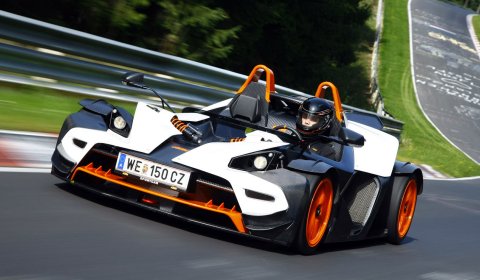 After initial information on the release of the KTM X-Bow in the US, pricing has been revealed. The basic "Street" model will set you back a whopping $ 88,500.
Of course, other variants are also available. The Clubsport version is $ 103,500, the Superlight $ 134,500 and the top-of-the-line GT4 will carry a very hefty $ 139,000 sticker. Each single price will not include the Audi engine and transaxle of about $ 7,900. This is because the X-Bow cannot be sold as a complete car in the US. Pricing includes Airfreight and ground transport.
Additional options are a mechanical locking differential for $ 4,290, removable steering wheel at $ 1,690, wheels with central locking for $2,490, Integrated ChaseCam DIVA 2 Camera System for $4,490, Airjack System and "R" Package. Individual Powerpart and Powerwear accessory and part costs can be found on the British Racing Group online webstore right here.