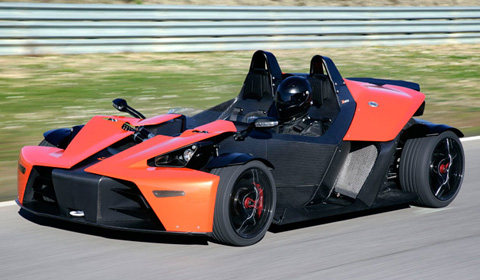 The KTM X-Bow is a lightweight, high-performance car, which was released in 2008. It was the first car to be developed by Austrian motorcycle manufacturer KTM, but it has never been offered in the United States. Over the past few days that has changed.
The X-Bow had some troubles to be regarded as street-legal in the US. To get the car legal for use on public roads, KTM has to import the X-Bow as a kit car. The North American authorities and state departments of transportation, classified the KTM X-Bow as a special construction vehicle. As such, it is sold without an engine and transaxle, which means supplying the engine is up to the customer.
The KTM X-Bow goes on sale in North America via the British Racing Group and they can also help the customers with issues regarding the engine.
Normally, the X-Bow is powered via a 2.0 liter turbocharged direct injected TFSI engine made by the Audi, which produces 237hp and 310Nm of torque. Thanks to this and its lightweight carbon-fiber monocoque chassis, the sports car can blast itself from 0 to 100km/h in 3.9 seconds. The top speed is 217km/h. Even more impressive is the braking, thanks to the huge Brembo brakes (305mm in front, 262mm at the rear) the X-Bow will stop from 100km/h in just 30 meters.
Please contact the British Racing Group for pricing and information regarding availability.