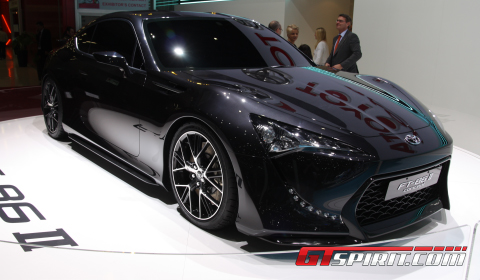 Following the release of an official teaser, Toyota has revealed Toyota FT-86 Concept II at the Geneva Motor Show. According to Japanse car maker, this is the best indication yet of what the production version of the RWD reborn FT-86 will look like.
Changes with respect to the 2009 FT-86 Concept include the addition of vents on the front wings and a more pronounced rear wheel arch. A new front fascia, flared rocker panels, and the elimination of the 2009 car's directional-spoke wheels. The rear got a spoiler, a diffuser-esque rear, and openings under the taillights.
The FT-86 II is rear-wheel-drive, has a six-speed manual, and will be powered by a mid-FR Subaru boxer engine.