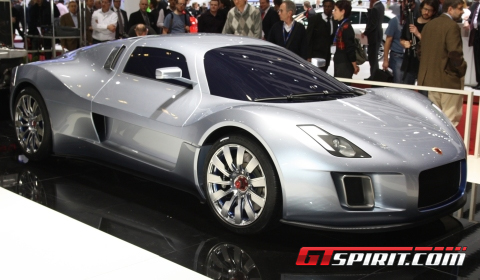 Rumoured for some weeks now, the Germans at Gumpert have finally shown their Tornante at the Geneva Auto Salon today. The Gumpert Tornante is a two-seater coupe based on the Gumpert Apollo.
Before the world premiere Gumpert showed us two teaser images, one from above and one behind. In addition to these teasers there was a drawing showing the side of the Tornante.
The Gumpert Tornante bodywork is designed by the Italian couchbuilder Touring Superleggera who were commissioned to design an elegance and comfortable sports car, which is rooted in motorsports and competition engineering. This new supercar is built on an advanced chrome-molybdenum steel space frame with a carbon fiber body. This setup aims to be very light and rigid. The body has gullwing doors and a wide rear hood that covers the engine.
The Gumpert Tornante is powered by the same engine as the Gumpert Apollo, the 4.2 liter V8 biturbo which delivers 700hp. Alongside the basic version, an alternative powered Tornante is also planned for 2012.