We are very pleased to announce the winners of our annual supercar and tuning awards! Out of ten nominees chosen by our editorial team our visitors chose their Supercar and Tuning Car of the Year 2010. The winner of the award for Tuner of the Year 2010 was one of five nominated tuners.
GTspirit Supercar of the Year 2010: Ferrari 458 Italia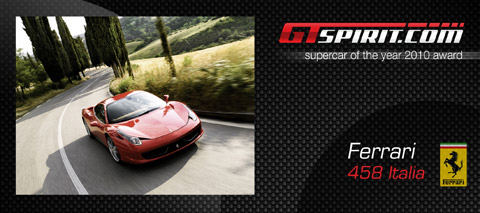 The Ferrari 458 Italia certainly made the headlines more than once in 2010. The Ferari F430 successor set the new benchmark for supercars in this segment, but wasn't free of controversy caused by its spotanious fires. The 4.5 liter V8 in the Ferrari 458 Italia delivers 570hp and it has a top speed of 325km/h.
GTspirit Tuner of the Year 2010: Mansory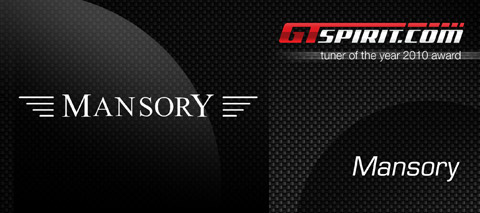 Mansory has gained reputation as an exclusive tuner of super- and hypercars. Their reputation and eye-catching creations released in 2010 is rewarded with both recognition from our editorial staff and our visitors and ultimately earned Mansory the title for GTspirit Tuner of the Year 2010.
GTspirit Tuning Car of the Year 2010: PPI Razor GTR-10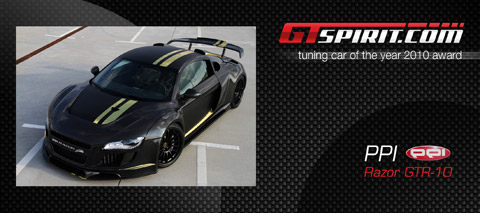 PPI focussed on weight reduction with their PPI Razor GTR-10. The result is a naturally-aspirated V10 engine with 601hp and a car that is 250kg lighter than a standard R8 V10, good for 0-100 km/h in 3.3 seconds and a top speed of 335km/h. The PPI Razor GTR-10 made public appearances at Top Marques Monaco and the Gumball 3000 in 2010, without a doubt this has helped them to secure the award for Tuning Car of the Year 2010.
Visit the following page for an overview of all nominees for the 2010 GTspirit Supercar and Tuning Awards:
We look forward to the GTspirit Awards 2011, with deliveries of the Lexus LFA, Aston Martin One-77 and Lamborghini Aventador LP700-4 it promises to be an exciting year!