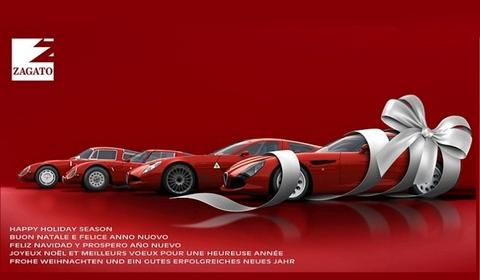 Carrozzeria Zagato, for most of us only known as Zagato, is the Italian design perfection that created superb looking and unique cars like the Alfa Romeo TZ3 Corsa and the Perana Z-One. Zagato is planning the debut of a new car at the Geneva Motor Show in March.
Zagato's holiday wish features the complete Alfa Romeo TZ line-up. Starting from the back, you will spot the original TZ1, followed by the classic TZ2, the most recent TZ3 Corsa and a fourth TZ model, which is brand new to us.
So far not a single detail has been released. Although, it looks like some sort of fusion between the Z-One and a 8C. It is logical that the fourth model will carry the TZ4 nameplate.
Stay tuned for more soon!
[Via Autoblog]