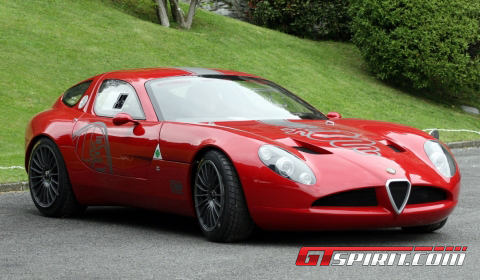 The Zagato-designed Alfa Romeo TZ3 Corsa has been unveiled at the Villa d'Este concours in Italy and won the award for best concept car at the event. Created by Zagato in Milan, Italy it is a tribute celebrating Alfa's 100th anniversary.
The concept is equipped with Alfa 8C Competizione's V8 with manually adjustable engine calibration and linked to a six-speed sequential gearbox. The setup is a combination between a carbon fiber body and a rear wheel drive tubular structure. The whole vehicle weighs only 850kg.
The racer is outfitted with 18 inch wheels with 245/645/R18 Pirelli PZero tires at the front and 285/645/R18 at the rear. The TZ3 Corsa sprints from 0 to 100km/h in less than 3.5 seconds and has a top speed of over 300km/h.
The design brings back memories from its 60s-era predecessors, the TZ1 and TZ2. For an overview of the wonderful car check out the gallery below!