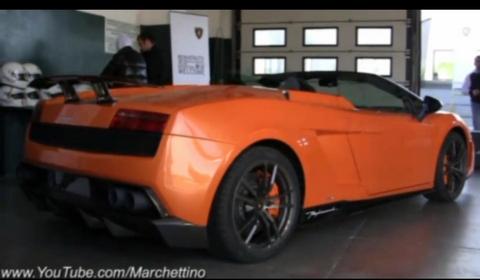 Ever since the official introduction of Lamborghini's latest Gallardo, the Spyder Performante, at the Los Angeles Motor Show we did not see any pictures nor videos of the sports car.
The footage belows gives us a first glimpse of an Orange Spyder Performante showing many details of the car including the interior and exterior. You will even see a walkaround and the soft roof being opened.
Just to refresh your mind, this Gallardo is powered by the same 5.2 liter V10 as the Coupé Superleggera. The open-top Gallardo LP570-4 sprints from zero to 100km/h (62mph) in just 3.9 seconds and keeps on going up to a top speed of 324km/h (201mph).