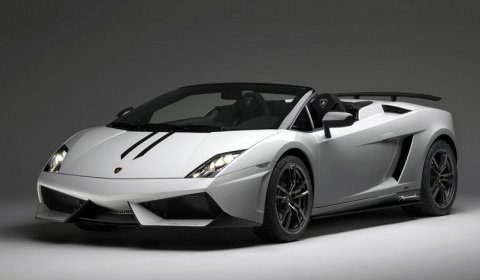 Revealed a day in advance of its official release and following the initial detials regarding its name, this is the brand new Lamborghini Gallardo LP 570-4 Spyder Performante, the open-top version of the Superleggera.
The Performante is even lighter than the Gallardo LP 560-4 Spyder thanks to the usage of CFRP technology. The engineers in Sant'Agata Bolognese managed to reduce the weight of the new Spyder Performante by a further 65 kilograms (143lbs). The open super sports car tips the scales with a dry weight of no more than 1,485 kilograms (3,274lbs). Just like its "brother", the Gallardo LP 570-4 Superleggera, the lightweight of the Spyder Performante is due in large part to exterior and interior components made from carbon fiber.
The V10 power unit with a displacement of 5.2 liters generates 570hp (419kW). It catapults the open-top LP570-4 from 0 to 100km/h (0-62mph) in a mere 3.9 seconds and keeps on going to a top speed of 324km/h (201mph).
The contours of the Italian bull are measuring 4.39 meters long, 1.90 meters wide, but only 1.18 meters high. Open or closed, the top of the Spyder Performante can handle the highest speeds.
Designers from Lamborghini's Centro Stile remodeled the front bumper including the three-dimensional, deeply recessed elements form trapezoida l-frames for the large air intakes. Modifications to the fully-covered underbody, new sill elements and a redesigned diffuser incorporating four large tailpipes also help to achieve better aerodynamic results. A large optional rear spoiler is also available for the Spyder Performante.