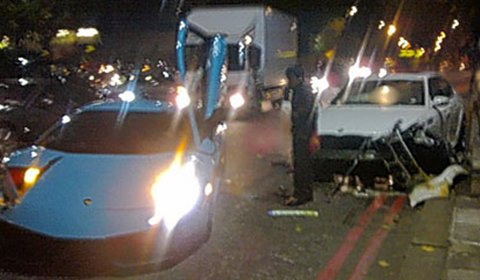 It is reported that last Thursday night the Al-Thani LP670 SV and a White BMW E60 M5 were involved in a crash at Hyde Park Corner, London. A witness to the crash has said:
The BMW smashed into the central reservation, bounced off and then hit the Lamborghini. Both cars were definitely travelling very fast.
Thankfully no one was injured.
The Baby blue LP670 SV has suffered front offside damage and is the same one that was clamped outside Harrods back in July alongside the owners Koenigsegg CCXR.
This latest crash in the UK's Capital has led to residents from the area's where the supercar owners like to cruise launching a campaign to get rid of the supercars.
[Via Thisislondon.co.uk]