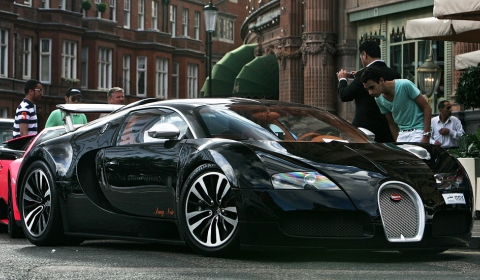 As an editor you don't normally get a chance to share your personal thoughts and passions about supercars, but I will make an exception this time! Even though we have the ability to drive these kinds of unique cars once in a while, there is a vehicle on my wish list which has been spotted over the past few months in London, UK. A vehicle often referred to as a hypercar. The Bugatti Veyron Sang Noir is the car I'm referring to.
A Bugatti alone is epic because of its name; The Veyron, because of its technical achievements. The Sang Noir name drops it into a league populated by some of the most special machines in the world. I would say that this special edition Veyron is placed at the absolute highest level of distinction.
Dedicated to the Bugatti Atlantique 57S of the 1930s, the vehicle resembles my experience of Bugatti's history as a brand. The re-designed front grille, the black background for the headlights, the side mirrors crafted in the same colour the grille, the entire black-painted body, the astonishing bright orange interior, the custom alloy wheels featuring a black finish; All of these components combine, in my eyes, to create a masterpiece of engineering and design.
Limited to only fifteen copies, the Bugatti Veyron Pur Sang personifies uniqueness, technical achievements and heritage for me.