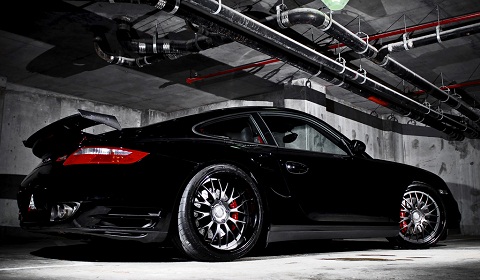 We have introduced you to RENM Performance over the past couple of weeks. We loved their take on both the BMW M3 and the Audi R8, however, we thought we would also bring you up to date on a couple of the companies other projects. Most notably, RENM Performance have worked on Porsche 997 Turbo's, Mercedes SL550's and a Lamborghini LP640.
To start with the LP640, RENM called this project 'Axiom' deriving from the greek meaning "being in balance". It's a subtle modification in all aspects aside from those flashy 19 inch carbon/forged three-piece wheels. An ECU re-calibration and sports air-filters coupled with a new exhaust system offers 665PS for a stage one tuning package. Stage 2 includes the complete back-pressure controlled exhaust system, revised sports camshafts, cylinder head conditioning and ECU re-calibration and offers 715PS in place of the standard cars 640PS.
For the Mercedes, RENM have joined forces with Kleemann to produce what they call the SL550 'M-Max'. Performance modifications include an ECU re-calibration, hi-flow air filters, revised stainless steel exhaust headers and down pipes, sports catalytic converters and sports camshafts. The car now produces a significantly increased 460PS. A number of subtle body modifications were added to this car as were light weight alloys.
The final vehicle we are yet to talk about is the RENM RM580. It features an extra 80PS over the standard Porsche 997 Turbo thanks to its Stage 2 tuning kit. A number of changes were made to this car including a new exhaust system made from T309 stainless steel and an ECU re-calibration.
For more details on what RENM Performance have to offer, visit their website.