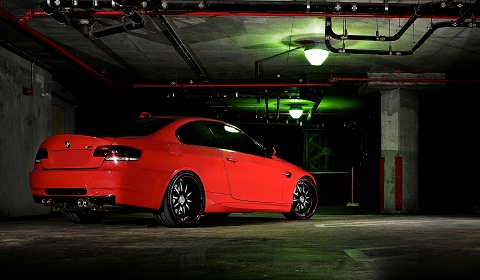 We love a good-looking M3. That is exactly what RENM Performance produced when they set to work on the E92 M3. Slight power increases have been applied but what really makes the car stand out is its subtle bodykit. It reminds us of what an M3 CSL would look like!
Power has been raised from 420PS and 400Nm of torque to 450PS and 440Nm of torque. This distributes a more linear and usable spread of power across the entire power band and particularly in the lower to mid-range. To gain the extra power an ECU re-calibration, inconel high-performance exhaust, carbon fiber air-intake, sports air filters and adjustable ride height/dampening suspension have all been added.
The M3 Agitator uses inconel Formula 1 exhaust technology for extreme stability and heat resistance. The rear silencer is twelve kilograms lighter, there is a 40% weight-reduction over the production model and it incorporates a design that increases performance significantly.
The aerodynamic improvements to the Agitator include customised T6 forged three-piece wheels, adjustable coilover suspension, hallmark-designed 76mm diameter tail pipes, aero carbon fiber front spoiler, boot lid and rear diffuser.
For more information on the RENM E92 M3 Agitator, contact RENM Performance.