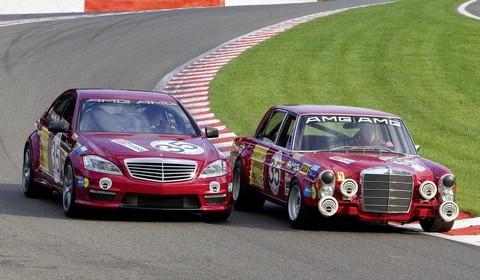 Racing is a phenomenon from all times and most brands that made history are still active today. To honour the good old days Mercedes-Benz performed a race between a 2010 S 63 AMG and a 1971 300 SEL 6.8 AMG, the same car that on July 25th of the same year crossed the finishing line in second place at the 24-hour race in Spa-Francorchamps, Belgium.
The 300 SEL 6.8 AMG was powered by a 6.8 liter V8 engine with a total output of 250bhp and a top speed of 262km/h (164mph). Its opponent, the S 63 AMG, has a 6.3 liter V8 producing nothing less than 571bhp together with 900Nm of torque. The power enables the luxury saloon to sprint from standstill to 100km/h (62mph) in just 4.4 seconds and reaches a top speed of 300km/h (188mph).
The two cars are outfitted with the same sponsoring and memorable start number "35" combining the past and the present in a classic comparison between generations. A very nice comparision if you ask us!