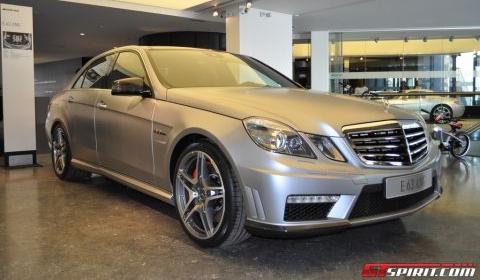 Mercedes' sport division, AMG, opened a brand new exhibition about two weeks ago in the Mercedes House in Brussels, Belgium. With nine AMG masterpieces displayed it is definitely worth a visit when you are in or near Brussels. The exhibition shows a series of AMG vehicles like the CLK AMG Safety Car, carbon edition E 63 AMG, SLS AMG, C 63 AMG Break, SL 63 AMG, CLK DTM AMG, DTM AMG Racecar, C 36 AMG and the very rare SL 73 AMG.
When entering the Mercedes House you will walk straight onto the CLK AMG Safety car. Under the hood there is a 481bhp strong V8 combined with modified brakes, suspension, cooling and exhaust system it makes a worthy safety car!
A little bit further down the hall a limited edition E 63 AMG is displayed. The car is equipped with a matte grey paintjob and a carbon package – for now only one available in Germany. Under the hood nothing changed, so you will find a 525bhp strong V8 catapulting you from stand still to 100km/h (62mph) in just 4.5 seconds.
Last car on the upper floor and probably the one with the most AMG charm is the SLS AMG. Not a lot of words are needed, this car is just passion! Just to refresh your mind, the SLS AMG is running on 571bhp strong V8 producing a sprint from zero to 100km/h (62mph) possible in just 3.7 seconds.
While walking down the stairs you will spot six stunning AMG vehicles. The hall is filled with the 487bhp V8 strong C 63 AMG Break able to sprint to 100km/h (62mph) in just 4.4 seconds. Next to it one of Mercedes' nicest cabrios, the SL 63 AMG. This one runs a 525bhp strong V8 and with the roof down it will produce a sound close to best on the market.
Third car is a rather impressive one, a CLK DTM AMG. The 582bhp strong supercharged V8 gives the ability to a sprint from standstill to 100km/h (62mph) possible in a clear four seconds. Combined with the special bordeaux colour it is a very nice car.
Directly opposite of this super CLK its race version is displayed. As if the supercharged V8 was not enough, the AMG engineers mounted a 600bhp V12 engine producing faster sprint times up to just 3.4 seconds. Top speed of this racer is nothing less than 345km/h (216mph).
Finally, two cars which are a little bit older but definitely worth the attention. The first one is the extremely rare SL 73 AMG – made in 1995 – produces a nice 525bhp out of its V12 engine. The same engine used as in a exotic supercar, the Pagani Zonda. A total of 85 SL 73 AMG roadsters were ever built.
Last but not least, a C 36 AMG with a six-in-line engine producing 280bhp. Sprint time to 100km/h (62 mph) takes 6.7 seconds, which is not that bad but honestly could have been better.
Everybody who wants to visit the Mercedes House in Brussels can do it on a daily basis. The exhibition started last weekend and will be open for everybody until October 31st.