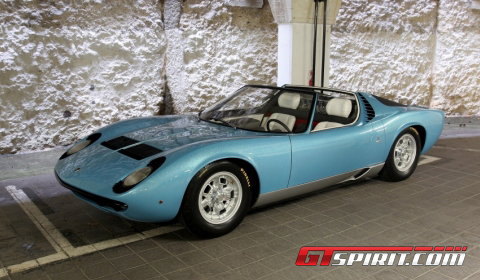 One of the most exclusive Miura's, still in existance, is the Miura P400 Roadster Prototype, which was presented on the 1968 Brussels Auto Show. Designed and built by Bertone, the vehicle was showcased at this year's Concorso d'Eleganza near Lake Como.
True Lamborghini fans will easily spot the major differences at the rear end. The rear louvres were removed by Bertone, the tail lights changed and the exhaust piptes go through the lower grill. They lowered the roofline by 3cm and the angle of the windscreen changed. All needed to kill an undesired turbulence at 300km/h.
Inside the vehicle switches from the overhead console moved to the dashboard and the steering wheel looked like the one of the Marzal and the Espada prototype. The car was finished in a bright-metallic azure, while the interior was upholstered in a magnoliacoloured leather.
Although the demand for a roadster was high, the Italians never delivered a Miura Roadster or even a replica.
This unique one-off has a true heritage which should not be forgotten. Enjoy the gallery!