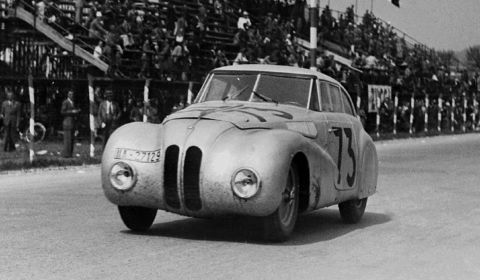 Concorso d'Eleganza Villa d'Este at Lake Como is back this year with some very special cars. One of the highlights of the event is the clash between the concept cars. The winner of this beauty contest will be decided by the assembled enthusiasts. The event will showcase several exclusive and luxury vehicles at the Grand Hotel Villa d'Este on the last weekend of April (23 – 25 April).
A small list of participants has been handed to us. Vehicles like the Spada TS Codatronca (2008), Bentley Continental Flying Star from Touring Superleggera (2010), Ferrari P540 Superfast Aperta (2010), Frazer-Nash Namir by Italdesign (2009) and Alfa Romeo TZ3 Corsa by Zagato (2010) will be at the event.
The main subject of this topic is the return of the BMW 328 Kamm Coupé. As every year, BMW is showing a concept car out of competition. To mark its victory in the Mille Miglia 70 years ago, the brand will bring its BMW 328 Mille Miglia Concept Coupé to Lake Como.
As well as unveiling the 328 Kamm Coupé at the Concorso d'Eleganza Villa d'Este, BMW will also present an exhibition of the brand's cars preparing to line up for the Mille Miglia ten days later.
The Concorso begins on Saturday with a programme for invited guests. On Sunday, all car fans will then have the chance to admire the line-up at close quarters in the adjacent parkland of Villa Erba. The cars presented on Saturday will be complemented by exhibitions featuring a host of other classic models. Admission to Villa Erba in Cernobbio is 14 euros (concessions 8 euros).
Our Italian reporter is at the event for a full coverage. So expect wonderful shots of all the special cars and HD-video covering the full event.