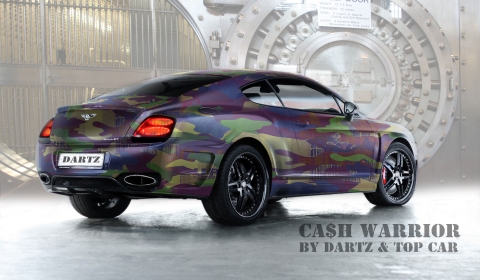 Russian companies TopCar and Dartz have teamed up and created the CA$H.CAMO Bentley Continental GT. The luxury sports car includes a TopCar Bullet body kit, new set of wheels and is covered in an exclusive kevlar vinyl wrap which combines a camouflage colour with the picture of a € 500 banknote.
Unique? They have taken it a step further than just a "wrap". According to Dartz, the wrap feels like the surface of a banknote. Isn't it nice that you "feel" the cash on your bankaccount, every time you open the door of your Bentley?
If you order the wrap now you will receive as a bonus a bottle of RussoBaltique Vodka. And for those of you planning to order a Dartz Kombat T68 Red Diamond Edition, it is also available with the CA$H.CAMO wrap.
One thing is for sure, Top Marques Monaco 2010 will be a really special event!