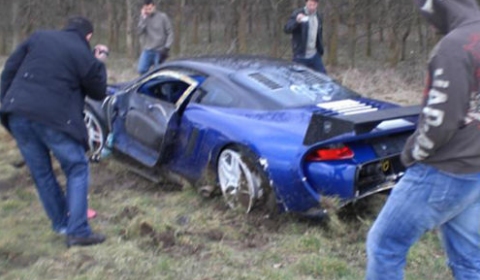 After the loss of two people in the GT3 RS crash yesterday and the Pagani C9 test mule crashing today, we are reporting about another sports car crash that happened on the 13th of March at the VMax Armageddon 2010 in Bruntingthorpe, England.
A 1135hp strong 9ff GT9-R – nummer 00/20 – crashed during a high speed run. Autobild reports that the vehicle went off the track during high speed braking. Luckily nobody got injured.
9ff stayed quiet about the crash in their latest newsletter only mentioning the results at the event. Before the hypercar crashed it did a top speed of 356km/h (222mph), a new top speed record in Bruntingthorpe. The speed was already reached in 5th gear. For the sixth gear the track was too short.
For those of you reading our website more often you may have seen this vehicle before. Some days ago we reported about the sale of the exact same highly modified Porsche Turbo via Jameslist for a price of € 823,529. However, all that is left now is only scrap value.