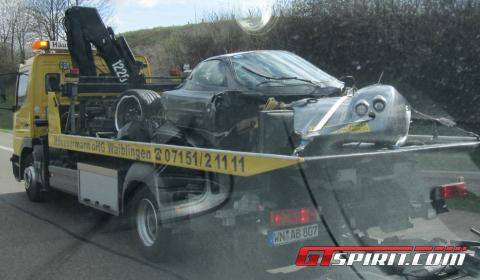 It is a known fact that Pagani is working on the successor of the current Zonda line-up. The Pagani C9 test mule has been spotted numerous times around the world. One of the test mules was spotted again, this time near Stuttgart, Germany placed on top of a transport back to the work shop.
Unfortunately, there is a downside. Our keen eyes spotted some interesting new body work and wheel displacement. Exactly, this C9 test mule crashed! It happened at 10am today, on the Autobahn B14, overpass near the Mercedes-Benz factory!! It is unknown what happened but if you look closely at the road setup, it seems logical to believe the driver lost control of the test car.
Such a shame to see a hypercar like this…
Update: We added a picture of the skid marks on the Autobahn B14 where the test mule crashed against the guide rail.