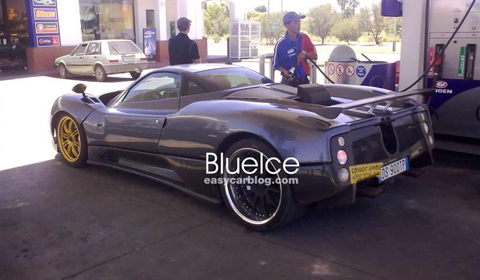 It's been a busy week for Pagani and their C9 development program, the we've seen it twice. First time was last Thursday, now we get images from South Africa of a different car testing. This car is wearing a 'government approved high speed testing vehicle sticker' and features much heavier modifications, perhaps indicating that this vehicle is further along the development program.
The prototype was spotted in Upington on South Africa's Northern Cape where temperatures in February regularly average 34 degrees centigrade (93 degrees fahrenheit). The perfect destination for hot weather testing of aerodynamics, cooling and general design function.
The C9 will be a completely new car for Pagani, whilst sharing some resemblance with the Zonda, the C9 will benefit from 3,770 new components. Rumours are that during testing this car hit 411km/h (255mph) in 40 degree centigrade heat. However, it's likely that when the C9 is released, Pagani will play it safe by limiting the car to 380km/h (236mph).
Just to recap, we expect the chassis to be made of carbon-titanium with a new undercarriage and one-of-a-kind Pirelli tires. The C9 should also use an AMG Mercedes 6.0 liter V12 bi-turbo engine producing up to 700bhp and 1000nm of torque. Fourty cars will be produced and sold annually worldwide, at Pagani's new factory, for a price of around €900.000 without taxes.
[Via EasyCarBlog & TeamSpeed]