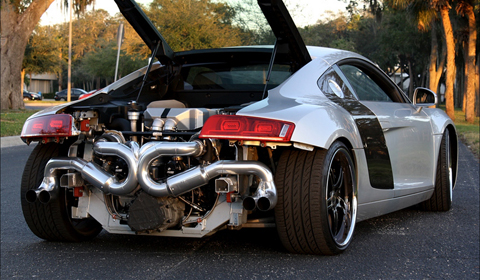 For those of you waiting for official images of the Heffner Twin Turbo Audi R8, here they are. Heffner Performance have used a V8 model for the conversion, managing to create a twin-turbo, 536 rear wheel horsepower monster!
The car is still not entirely finished, however it has been dynoed and is near completion. All that remains for it is for the twin turbo kit to be taken back off again, polished, coated and then placed back on the car. Regarding the performance, Heffner say; "As of now the car is running on 6 psi and a 11.8 to 1 AFR and probably has a little more ignition timing removed than necessary to be on the safe side for now".
Dyno comparisons between when the car was bought in (with a Stasis exhaust system and Revotech ecu tune) and the currene setup show that the car has gained 183rwhp, a 50% increase. The tests were carried out on 93 octane fuel, 100 octane tests are planned where it is expected that the tuned R8 will produce over 600rwhp.
As ever, the twin-turbo conversion looks stunning. Enjoy the photos and videos!