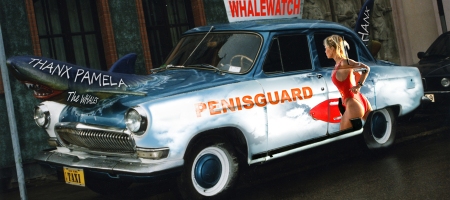 Maybe you remember the story about the Dartz Monaco Red Diamond Edition and the fact that the car maker was planning to use whales penis leather in its interior. The whole plan was killed after some parties contacted the Russian manufacturer and complained. Dartz has come up with a response!
The three parties that contacted Dartz where Greenpeace, the WWF and Pamela Anderson! Eventually it was enough for them to drop the idea and instead use "advanced nanotechnologies to achieve interior highest quality using artificial materials." So everybody happy, but it isn't the end of the story afterall. We received some new information from Leonard F. Yankelovich, the owner of Dartz, today.
Dartz decided to make a 'Save the whales' show car as a joke of course, but also as a reaction to all the fuzz. The vehicle is made from the same kevlar fiber Dartz uses for production car bulletproofing. So even the whale on hood is bulletproof! I must say that's quite handy. They worked two weeks around the clock to make it. Leonard told us they even stopped working on the Red Diamond.
He also mentioned that they are not serious professionals in the fishing world. All they know is that caviar is good with Wodka, but they do think this hood whale is a copy of a Blue whale, which has the biggest penis on planet Earth. They really want to present the car to Pam. She can even use it, if she likes it! But they are dreaming more about a photoshoot with their luxury tank and the ex-baywatch star.
Before we forget, they are also planning the release of the vehicle at Top Marques Monaco 2010 or Cannes Festival 2010.
So let's have another Wodka and enjoy the pictures… Oh and do not forget the Caviar!