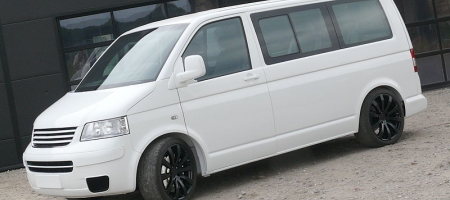 Just by reading the title of the article you already have some doubts on the outcome. Of course, you should have because the Volkswagen Transporter used in this head-to-head is a T5 Transporter tweaked by German tuner TH Automobile.
The VW TH2 got a new engine placed on the rear axle; a Porsche mill producing 560 horsepower. The twin-turbo 3.6-liter flat-six is also used in the 996 GT2. The TH2 matches the Cayenne's 4.8 second 0-100 km/h run and has the same top speed of 280km/h. However it is a lot cheaper than the SUV from Stuttgart, costing 'only' 113,000 Euro.
The interior of the six seater got Porsche technique and dashboard systems. The Alcantara headliner and dashboard complement the carbon fittings in the door and the leather seats.
So now let's check out the video made by the RTL II program Grip. It is in German, so get your dictonaries on the table and translate if needed.
[Via Autoblog.com]