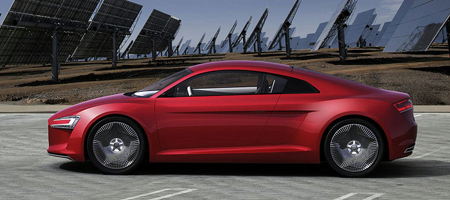 We revealed the E-Tron earlier, all we had back then was a set of leaked pictures that gave us no clue as to what lies beneath. The E-Tron is actually going to be a full electric we now find! As all the press conferences and pre-releases are going on we're starting to build up a bigger picture. There's four electric motors in the E-Tron, one for each wheel.
70% of the power goes to the rear 30% goes to front. That's 313bhp and 450Nm of instantaneous power which means 0-100kph (62mph) in 4.8 seconds. The top speed is a satisfactory 200kph (124mph). As a bonus, it's Lithium-Ion battery set-up weighs only 470lbs making it lighter than similar cars.
After a full charge, the car will go 248km. Charging from the mains will take a lengthy 8 hours whereas using special adapted plubs will take just 2 1/2. Wireless charging is in the works as well!
Overall the car weighs 1,600lbs and is based on the frame of the R8.
[Via AutoBlog.nl]