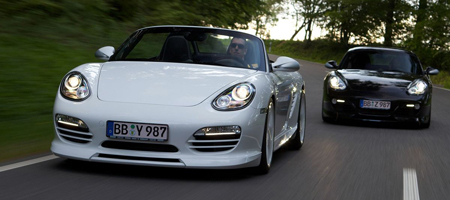 We may not have paid too much notice of the new Cayman and Boxster face lifts but TechArt has. The kit's consist of new aerokit's, daytime running lights, sports springs and carbon fibre interior parts.
As you can see from the pictures, there's two different aerokits. Both are TÜV certified and produce higher levels of downforce. Each kit consists of a front spoiler, side sills and a completely re-designed rear, complete with two rear spoiler options. As well as the new bodykit, both car's receive new TechArt exhausts, available in glossy or block chrome. TechArt describe the new sound these modifications produce as "more sonorous and hollow".
The inclusion of a daytime running kit has become a necessary inclusion for most tuning companies these day's. TechArt's version allows for three different settings depending on the light levels. They also feature an auto-dimming option when the indicators are applied.
Again, you will have notice the TechArt alloys from the photos. Their Formula, Formula II, and Formula III forged wheels and are available in 19 and 20 inch sizes. TechArt recommend Continental Pneu Sport Contact three tires for the best possible grip. The adjustments to the sport suspension allows a ride height 30mm lower than the standard car.
As we've said before, TechArt are capable of producing pretty much any requests as far as interiors go. Amongst the most popular interior options are the aluminum sport pedals, a 3-spoke sport steering wheel and illuminated entry sills. Two carbon interior packages are also available for a sporty look.
For more information, visit TechArt's website www.techart.de. Also take the time to look at our recent review of the TechArt Cayenne Diesel and our interview's with export sales manager Richard Hefler and TechArt CEO Thomas Behringer. Our impressions of the factory are also available here.