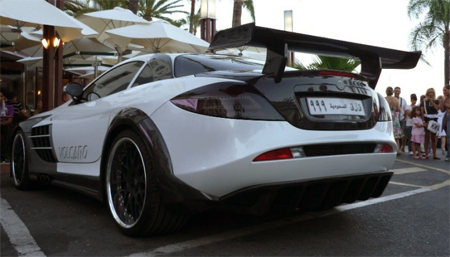 Tuned and modified McLaren SLR's have become very popular in our 'Overkill' category. The Hamann SLR Volcano is not directly the worst in this lineup, which is currently lead by the hideous Anliker SLR 999 Red Gold Dream SLR modification, but it's certainly food for discussion.
Is this Hamann SLR Volcano overkill or not?
The Hamann SLR Volcano is not just modified on the outside, but also had a performance upgrade. The engine output is increased from 626 hp to 700 hp and the maximum torque has been lifted to 830 Nm. This allows for a sprint from 0-100 km/h in 3.6 seconds and a top speed of 348 km/h. Hamann can turn any standard SLR into a 'volcano' that out-performs McLaren-Mercedes's own 722 edition of the SLR.
[autogespot via supercarsdubai]