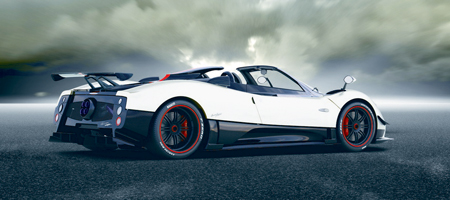 We love looking at new Zonda's. Every single one seems to be a stunning piece of automotive art. Our trip to the Pagani factory only added to this opinion. Therefore, the release of details about the Pagani Zonda Cinque Roadster really caught our attention. Only 5 will be produced making it even more exclusive than the outrageous Zonda R!
We've already seen the equally limited edition Zonda Cinque Coupe, the roadster is the soft top version of this car. Featuring a monstrous 678hp Mercedes AMG V12 engine, the roadster also makes use of a Carbon-Titanium chassis, fully re-designed just for the Cinque Roadster.
The Cinque Roadster represents the ultimate evolution of the Zonda road car. From the extra air intakes to the 'floating' ram air scoop to the titanium exhaust and adjustable suspension setup. The Zonda Cinque Roadster looks stunning!
The price for this exclusivity? Just €1.3 million + taxes… Only for the mega rich then…
PRESS RELEASE
Zonda Cinque Roadster

The Pagani roadcar model range would not be complete without a Roadster version of the Zonda Cinque. As the name implies it is created in the Modenese Atelier in a limited production run of merely five exclusive pieces like its coupé sister. All weight reduction measures adopted by Pagani to improve driving pleasure, performance and emission of the Zonda Cinque have found use in the Cinque Roadster as well.

The Carbon-Titanium chassis has been redesigned for the compensation of a missing roof. The Cinque experience is enhanced with the roof stored in the front bonnet, when the storm of air being fed to the 678hp Mercedes AMG V12 engine through the massive intake just inches over the passengers' ears, accompanies the exhaust note of the bespoke Zonda Cinque Inconel and Titanium exhaust system.

Whether you opt for a relaxed country drive in Tuscany's hills, visiting Florence and other centres of the Italian Renaissance, or a record hunt at the Nürburgring, this 1.3 milion Euro + taxes jewel will reward with every day driveability and ultimate performance thanks to the different drive modes of the sequential robostised gearbox and an adjustable suspension setup that feels at home as well at the racetrack as on bumpy roads. The constant efforts of Horacio Pagani and his team shows once again how art and engineering can be combined in the Zonda Cinque Roadster.

Technical Specifications:

– Mercedes Benz AMG engine, Power: 678 hp, Torque: 780 Nm
– Carbon-titanium monocoque
– ECU, Traction control, ABS by Bosch Engineering
– Inconel/titanium exhaust system coated with ceramic
– Suspensions in magnesium and titanium
– Cima sequential gearbox (6 speed), robotized by Automac enginnering
– APP monolitic wheels forged in aluminium and magnesium
Size: front 9×19 – rear 12,5×20
– Pirelli PZero tyres. Size: front 255/35/19 – rear 335/30/20
– Pagani leather/carbon fibre racing seats
– Brembo brakes in carbo-ceramic self ventilated with hydraulic servo brake,
Size: front 380×34 mm, monolitic 6 piston caliper; rear 380×34 mm,
monolitic 4 piston caliper
– Dry weight 1.210 kg
– Weight distribution in driving condition: 47% front, 53% rear
– Acceleration: 0-100 Km in 3.4 sec., 0-200 in 9.6 sec.
– Braking: 100-0 km in 2.1 sec., 200-0 km 4.3 sec.
– Maximum side acceleration: 1,45 G (with road tyres)
– Downforce at 300 kph: 750 kg