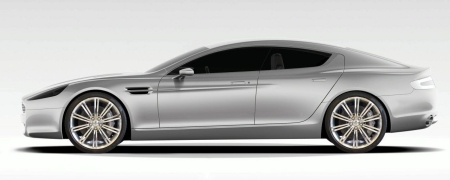 The Aston Martin Rapide has been spotted so many times that a final release is just a matter of starting the production and selling the car in stead of unveiling something rather new at the Frankfurt Motor Show in September. The beautiful four-door sport car has moved into the final stages of its development programme and will have its public debut at the end of 2009. The first customers will have their own Rapide at the beginning of 2010.
As Aston Martin's first true four-door production sports car, the Rapide has four full-sized seats, enough luggage space and all you can aspect from an Aston Martin. The Rapide will be one of the most elegant four-door sports car in the world. An example of this elegancy is the four-door format, which features 'swan wing' doors – rising upwards and outwards as they swing open – giving you access to the two individual rear seats.
The Rapide will be powered by a 6.0 litre V12 engine producing 470bhp and 600Nm of torque. The rear wheels are driven through a Touchtronic gearbox. Performance figures have not been release yet; when they are available we will share them of course.
The newly developed car will be build in a new production facility in Austria. Magna Steyr will manage the process after the introduction at the Frankfurt Motor Show in September.