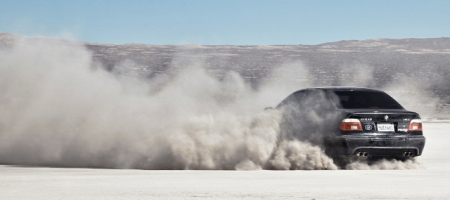 The Photo Of The Day category is a topic in which we normally show only one picture. This time it's different. One of our GT forum members – Terrabass – has come up with a decent line-up of pictures. The main subject of each picture is his BMW M5 E39. The shots are made by Nathaniel Napierala. Just amaze yourself about the level of quality and download your favorite wallpaper.
Terrabass about his car: "The Beemer has some Dinan tuning. Currently it is Matte Black in order to be less visible in the eyes of Police Lasers that reflect of shiny paint/stuff. The car is not complete, the headlights have to be tinted with special Viel coating in order to deflect police laser and rims blacked out. The paint is useless against radar though."
Turning the key is just one step


Hi-res versions:
1024×768
1280×1024
1280×720
1280×768
1440×900
1600×1200
1680×1050
1920×1200
The noticeable Hofmeister-Knick

The name is Bass… Terrabass

M5 to the power of three

Eat my dust

Right-click your mouse and press save to download the hi-res version of one of the pictures. If you need any specific wallpaper sizes or want to check out more pictures. Please visit our forum!