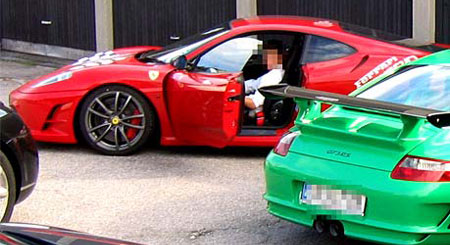 The German police has impounded a dream collection of supercars in the German province of Bavaria today. The brand new Ferrari 430 Scuderia, Porsche 997 GT3 RS, Porsche Cayenne, Bentley Continental GT and Audi R8 belonged to participants of the 'Club GT Events' rally that started earlier this week in Cologne and should finish in Split after a route that lead them through Germany, Austria and Croatia.
The police stopped the five supercars for alleged reckless driving on the German autobahn. It's not the first time the German police puts an halt to a foreign road-rally involving high-end sportscars, last year the Gumball 3000 and Cannonball 8000 faced German roadblocks.
The drivers of the impounded cars carried on to Munich in rental cars. A newspaper report about the impounded supercars can be found here (German).