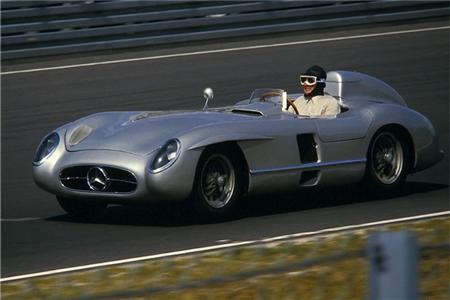 To mark the end of the relationship between McLaren and Mercedes, a special edititon of the McLaren-Mercedes SLR will be build. The final model will be a McLaren SLR Speedster. This lightweight version will lack a roof, windscreen and windows. Instead it just has a small deflector reminding us of the Smart Crossblade. Together with removal of the airconditioning and a number of other weight-saving measures this will be the ultimate SLR track warrior with a topspeed of 350 km/h. Only 75 SLR Speedsters will be produced at a price of € 450.000.
The car will also have a body constructed of carbon fiber, ceramic brakes, side pipes and a five-speed automatic gearbox. The car is a homage to the original 300 SLR (pictured above). Lewis Hamilton is said to be involved with this special SLR Speedster project. On 30th July more information is expected when McLaren racing driver Lewis Hamilton makes his appearance at the Stuttgart Arena.
Apart from this limited edition SLR Speedster both manufacturers are already working on their next individual supercar projects. McLaren is working on their McLaren P11 which is expected by 2010 and Mercedes is working on their new Mercedes SLC supercar to extend their already impressive range of powerful cars.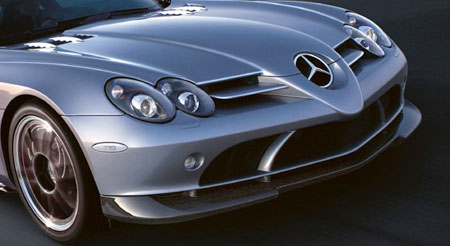 [Via Auto-Motor-Und-Sport]