Claus Ettensberger President of CEC / BRABUS USA, and Les Bidrawn Editor of European Car, are fueling-up a BRABUS tuned CLS55 for the Bullrun Rally.
BRABUS is famous for creating fast sedans. Last week the BRABUS ROCKET (348.000 €), built in small-series production based on the Mercedes CLS series, broke the record of the world's fastest sedan with a highspeed of 362.4 km/h (225.18 mph).

The heart of the new record car is the twin-turbo V12 engine from the latest Mercedes 600 models. It was fitted into the tight confines of the four-door with almost surgical precision. BRABUS increases displacement to 6,233 ccm with a special crankshaft, larger cylinder bore and forged pistons. In addition the engine is extensively modified internally: Airflow in both intake and outlet manifolds of both cylinder heads is optimized and sport camshafts are installed.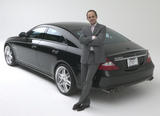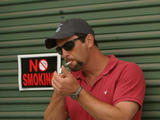 Claus Ettensberger and Les Bidrawn will team-up to drive the BRABUS CLS55 cross-country for the experience of a lifetime. The rally makes its way from one checkpoint to the next, revealing destinations daily.
PX