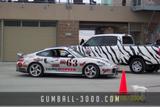 07.05.06 22:50
Lost in desert….
After a few hours of Heli-filming, the heli dropped Hece to the desert by the Interstate, where he should be picked up by the rest of the support crew.
Unfortunately the support guys had already gone way ahead, so Hece was left in the desert, frying.
Thank god swedish Team 8888888 picked him up!
After 80km of driving with a Lambo Murcielago with 3 guys in it they left the death valley and are now 200km before LA.
-Hece