A Honda Civic Type R has just landed in my bay in the office car park. I say landed because it looks like something that has emerged out of a meteor that entered earths atmosphere from beyond the dark side of the moon. There are huge scoops, vents, wings that allude to the sporty intent that lies beneath.
I can't help but chuckle. The last time I was in the office car park I was getting into a car that demonstrated a dichotomy of subtlety with the Type R like no other. The M5 Competition that previously occupied this moody fluid stained bay drove all four wheels, had eight cylinders, displaced 4.4 litres, produced 616bhp, 553lbs of torque, did 0-100 in 3.3 and cost £110,000. The Civic drives two wheels (half as many), has four cylinders (half as many), 2.0 litre (less than half), produces 316bhp (basically half), 295lbs of torque (close to half), does 0-100 in 5.8 (close enough to half as fast) and costs £33,000 (less than a third). You get the idea…
Zaid H - Civic Type R - Cotswolds
On paper then, the Honda Civic Type R should be half the car. I don't drive on paper and I've intentionally booked these cars back to back to answer a few questions – does power and brute force mean everything? Are we doing it all wrong with this bludgeoning power battle where big numbers seem to be more fashionable than the latest Supreme stock and hideous Balenciaga drop?
The FK8 Honda Civic Type R has caused quite a stir and not just because its styling draws attention and splits opinion like few other cars on sale, let alone the cars it competes with. What cannot be argued is that a Civic Type R is to hot hatches what Brad Pitt is to Hollywood – it has just always been there making headlines, winning awards and defining the industry. Unlike Brad Pitt it, allegedly, never fails to put on a show worth remembering. A quick flick through a motoring magazine of your choice would have, at some point, sang the praises of the Type R with it most likely have won an award or two whilst snubbing the noses of the Golf R, Mégane RS, i30N and more in the dirt on the way.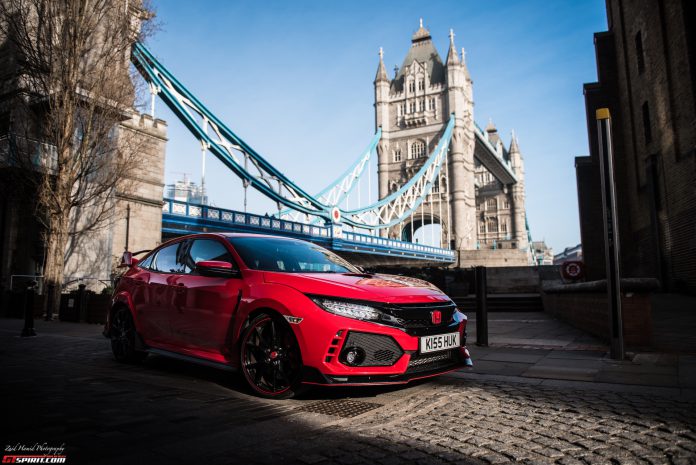 With a fellow automotive enthusiast accompanying me (hi George!) in another FK8 Type R, blue for appropriate contrast, a day in the countryside had been planned. If you're a regular to reading my stories and special reports, you'll know that I'm more accustomed to maxing 911s on the Autobahn and driving McLarens to Paris for brunch than I am to pottering around the British countryside in a Honda, but it makes sense. The Honda isn't a car that needs vast empty stretches of smooth sticky tarmac to be able to reach the upper echelons of its abilities. If anything, the winding, narrow strips of asphalt weaving between farms and flour mills of Brexitland are its natural habitat and where it has been built to be its best.
Don't get me wrong, this is not a small city car, but it is still small enough to feel wieldy and comfortable straddling the shrubbery of a B-road. You can maintain a good pace without playing Russian roulette with your nerves in case an articulated tractor carrying a few dozen squealing pigs comes hurtling around a blind bend. So, how much fun can you really have with small displacement, few cylinders, relatively modest performance stats and power going to the wrong wheels? Out here, on the same roads that I've explored in super cars and a handful of cars with double the power – a lot, and a lot more than in the unforgiving, nose scraping fire breathing supercars I'm spoilt to have become accustomed to.
There is something that immediately feels right in a car with a manual transmission, circa 300 horsepower and proper dampers. The way the Type R flows on twisty roads when working the terrific gearbox is sublime. The damping over the mixed surfaced remains composed with a supple ride and next to no body roll. This inspires confidence and you start to carry more speed through corners, this is when the limited slip diff starts to come into play. You can feel the torque shuffling across the front axle. Get greedy on the rev matched downshifts and the rear end will start to ruffle around. It is hilarious and you'll be wearing a beaming smile after a few spirited minutes of play.
Zaid H - Civic Type R - London
Spending more time testing the dynamic abilities makes the Type R's record-breaking Nurburgring Nordschleife time of 7:43.8 more and more believable. Hit the starter button and the car comes to life in sports mode. This seems to be the optimal set up for most scenarios. The dampers, throttle response and steering weight are controlled using the rocker switch beside the stupidly awesome metal gear knob (warning: this becomes hotter than the sun when left to bake in summer, or colder than a penguins bottom on a cold winters morning).
The feel of the car is profoundly different in each of the three modes – Comfort, Sport and +R. The steering in Comfort is worryingly light, similar to that of the infamous red and yellow Little Tykes car that I suspect you also would piloted as a toddler. In Sport it is well judged and you can feel what the front wheels are doing and just how good this 312hp front wheel drive car is at combating understeer. In +R you can cancel your gym membership – the weighting is too heavy for my liking…and the strength of my tiny shoulders.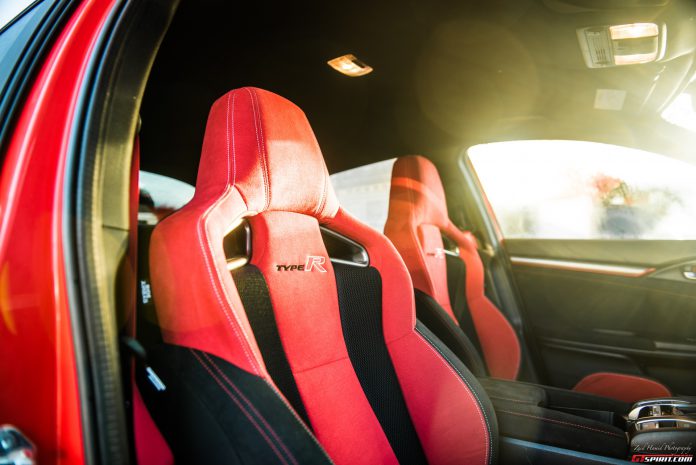 Sounds brilliant right? Well, there are a few drawbacks. The Civic Type R is not cheap at a £33,525 as tested. For that cars such as the BMW M140i are not out of reach and that is where you start to question the quality of certain things. The Interior materials are acceptable, until you get into the back and assess the fabric on the rear seats. It is worryingly cheap looking, particularly in comparison to the stunning and incredibly supportive front seats. They really are marvellous and play a key role in accentuating the sporty feel of the Type R.
Staying on the inside – the infotainment system is just is not as good as it should be – it is closer to the quality and look of a 1990s microwave oven display than the levels of innovation and style that can be found in a German hatchback. It even beeps like your microwave. The responsiveness to touch inputs is acceptable, it's when you try to switch from one function to another that it begins to lag. There are also bizarre empty menu screens and the lack of physical buttons just grinds my gears. Certain fundamentals such as volume controls and air-conditioning fans simply need tactile and physical knobs to be able to gauge inputs whilst driving. Looking for where you are meant touch simply does not work yet. Then there is the navigation which is outgunned and rendered useless by any smartphone app and has a habit of doubling any estimated arrival time courtesy of traffic jams that do not exist. In Honda's defence, CarPlay and Android Auto are fitted.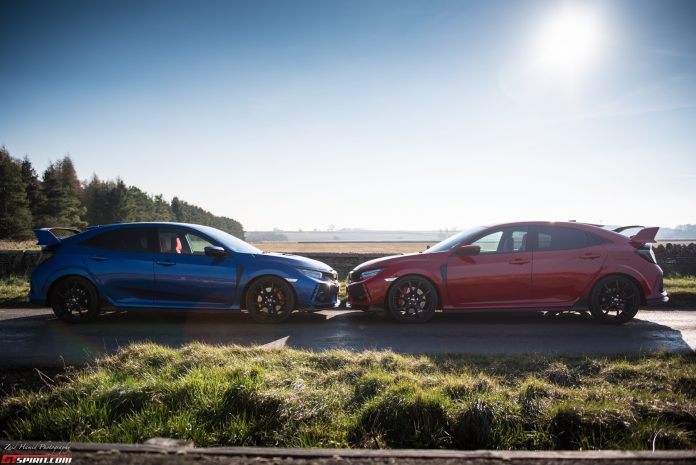 Remember those driving modes I touched upon? It is great that the modes make such a difference, but there is a drawback. The country roads I spent a morning attacking were too bumpy for +R mode. It would have been ideal to soften the dampers and that outrageously heavy steering and still have the drivetrain in its most potent mode. Unfortunately this is not possible – it is all or nothing. Furthermore, the marvellous driving experience is not matched by a loud gutsy exhaust bellow, or even a few childish pop and cracks from the exhaust. It is just a 4 cylinder noise, certainly a point that I hope will be improved in the next generation Civic Type R.
These criticisms are written in the context of my standards and time behind the wheel of cars that typically cost 3-4 times as much as the FK8 R. There is no faulting the way this hot hatch drives. The reviews, ratings and awards set huge expectations in my mind, I am typically left disappointed in such situations, this is not one of those times. The Civic Type R punches well above its weight and left me questioning why we have this obsession with horsepower and numbers.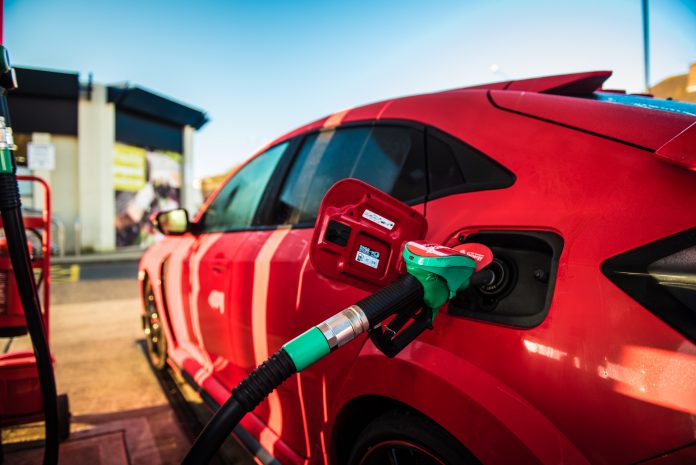 This is a car that proves that power is not everything, an engaging drive, fabulous chassis set up and generations of knowledge culminate in a driving experience that can be remembered for years to come. That is the point and why cars like this exist – you can embark on once in a lifetime drives…every month, week or even everyday. This is a special car and one that is happy pottering around town returning fuel economy figures that make you question whether or not the MPG read out is broken, has active cruise control and lane assist and will comfortably fit four adults. It is a remarkable car and one that finally makes sense to me.
It's all the thrills without the spills and expenses. There is a reason that Type Rs have such a healthy cult following and now I understand why. Power is not everything…