Following hot off the heals of the 77 limited edition Porsche 935's announced a few months ago, Porsche have used the LA Auto Show 2018 to pull the covers off another limited edition; this one is named the Porsche GT2 RS Clubsport. Similar in concept to the 935, the final version of the Porsche 991 generation will be a track-only special edition. Just 200 will be offered for sale with exclusive events planned so that customers can make full use of them.
The Clubsport is based upon the chassis of the Porsche 911 GT2 RS. It won't have escaped your attention that Porsche released a new 911 at Los Angeles this year so it looks certain that the Clubsport will be the last to be based upon the platform of a 991.
2019 Porsche 911 GT2 RS Clubsport
Like the 935, the GT 2 RS Clubsport uses a 3.8-litre six-cylinder twin-turbo engine, virtually identical to the road-going model. Power is rated at 700 hp, routed to the rear wheels through a seven-speed PDK gearbox. It comes equipped with PSM (Porsche Stability Management) including traction control as well as an anti-lock braking system (ABS). All three car be adjusted by switches in the cockpit.
The Clubsport weighs in at just 1,390 kilograms, it's not clear if this is unladen weight measured on the EU scales, if so, the GT 2 RS weighs a hefty 155 kilograms more. The weight is quite clearly shed through the spartan interior with carbon fibre steering wheel and colour display lifted direct from the Porsche 911 GT3 R model.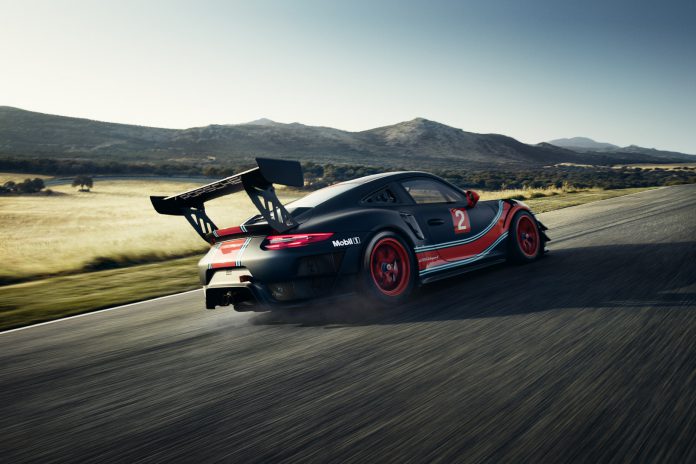 Porsche are offering the Porsche GT 2 RS Clubsport at a price of $478,000 USD, excluding tax, shipping, and import fees. It seems that if you are interested, you should apply by sending an email to [email protected]. Deliveries to begin in May 2019.