Lamborghini's first one-off project has been unveiled in the form of the SC18. The Lamborghini SC18 has been commissioned by a customer in collaboration with the Centro Stile Lamborghini and built by Lamborghini's racing division, Lamborghini Squadra Corse.
The Lamborghini SC18 is full road legal, yet the owner plans to use it primarily on the track. The aerodynamics have been developed from Squadra Corse's experiences in the motorsport world. The front hood and air intakes are styled from the Huracan GT3 Evo. The side and rear fenders, fins and airscoops are modelled on the Huracan Super Trofeo EVO.
The rear wing looks like an evolution of the Veneno. It gets mechanical adjustment with three settings to optimise downforce. Twelve air intakes pierce the rear hood, increasing cooling for the V12 powerplant.
The SC18 is fitted with the 6.5 litre V12 engine. Still naturally aspirated, it gets a power output of 770 hp at 8,500 rpm with 720 Nm of torque at 6,750 rpm. The power is routed through an ISR (Independent Shifting Rod) optimized seven-speed gearbox. Ground clearance is as low as 109 mm with carbon fibre body panels and unique exhausts.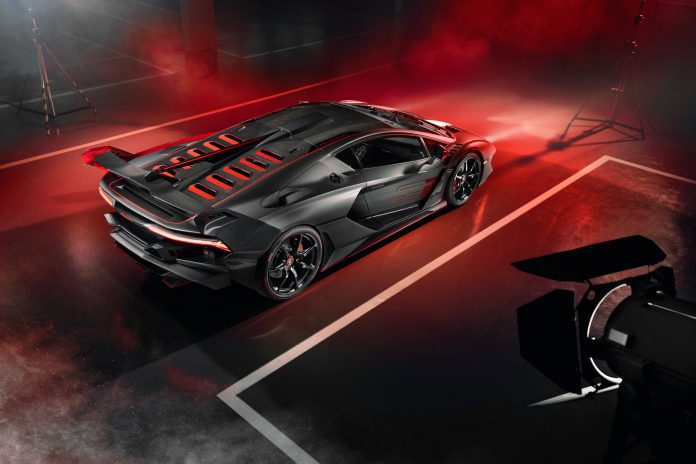 The paintwork is Grigio Daytona which complements the carbon fibre, finished in the same shade. Red details add some interest to the exterior finish. Inside, the cockpit gets a Nero Ade Alcantara with cross-stitching in Rosso Alala, and carbon fiber bucket seats. Centre lock wheels and P Zero Corsa tires complete the look.
Lamborghini are planning further one-off supercars under the Squadra Corse brand although it has not been revealed when these new models will break cover. For now, all we know is that the Lamborghini SC18 will not be repeated!