BMW have officially released that 8 Series Convertible. The second model in the new 8 Series line-up, it is the first time that BMW have offered a convertible version of the 8 Series.
The revival of the 8 Series badge continues with the new four-seater convertible. The 8 Series Convertible uses a classic soft-top roof. It opens and closes in just 15 seconds at speeds of up to 50 km/h. It comes finished in Black as standard, or Anthracite Silver as a cost option. The design differs very little from the Coupe, adding a rear deck to hide the convertible roof.
Two models will be available from launch, the BMW 840d xDrive Convertible which uses a six-cylinder in-line diesel engine to poduce 320 hp and 680 Nm of torque. This model will be capable of a 100 km/h sprint in 5.2 seconds with a top speed limited to 250 km/h. The second model will be the BMW M850i xDrive Convertible which uses the 4.4 litre V8 unit, producing 530 hp and 750 Nm of torque. The M859i will manage 100 km/h in 3.9 seconds and the same 250 km/h limited top speed.
2019 BMW 8 Series Convertible
Power is put to the ground through an eight-speed Steptronic transmission with both models getting BMW xDrive all-wheel drive. The M suspension, active steering and mixed tyre sizes are standard on both models. The V8 gets an electronically controlled M Sport differential for the rear axle, this can be fitted as an option on the diesel. Actrive roll stabilisation is an optional extra on the V8.
Inside, the 8 Series Convertible gets four seats with a through loading function. The rear seats have a 50:50 split. The boot is capable of holding 350 litres, 70 litres less than the Coupe.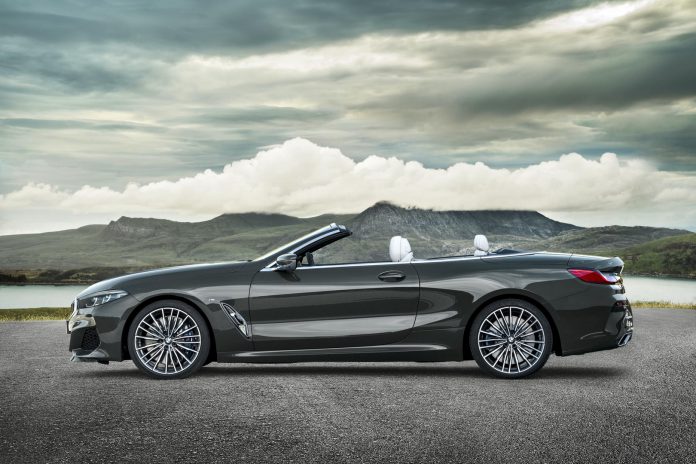 Otherwise, the specification seems largely the same as the BMW 8 Series Coupe which we saw unveiled at the 24 Hours of Le Mans 2018 earlier this year. The infotainment system runs BMW's latest 7.0 operating system. It uses a 10.25 inch touch screen display and a digital instrument cluster. Options will include wireless phone charging, a BMW display key, Bowers & Wilkins sound system and glass surfaces for the control elements.
The setup includes a range of dynamic modes as with most BMW models. These range from Adaptive, Comfort, Eco Pro, Sport and Sport+, all of which will likely give the 8 Series an impressive range. On the technology front, it comes equipped with a Driving Assistant Professional package which incorporates Active Cruise Control and Stop & Go function, Steering and lane control assistant, Lane Change Warning and Lane Departure Warning, side collision protection, evasion aid, distance information, Crossing traffic warning, Priority warning and Wrong-way warning.
The BMW 8 Series Convertible will be available from March 2019. Cost has yet to be announced.