The Trackhawk is a riddle to most people. They have trouble grasping it's purpose, it's very existence. This is because it completely flies in the face of everything that Jeep has every marketed itself to be. For decades, Jeep has held itself out as the manufacturer of the most capable off-roading, go-anywhere, do-anything vehicles in the world. "Trail Rated" has been their tagline and it has reinforced that image of rugged, capable machines that will keep it's owners safe in the worst of conditions. If a zombie apocalypse occurs, Jeep is the vehicle you want to be driving. Heck, if the actual Apocalypse occurs, Jeep is the vehicle you want to be driving.
The Trackhawk though….the Trackhawk is something different. Something new. And while it may seem out of place in Jeep's line-up, it's really not.
2019 Jeep Grand Cherokee Trackhawk
The Jeep Grand Cherokee has been around for a few decades now. One of the original luxury SUV's, it quickly developed a following among the upwardly mobile executive set at a time when the Western world was taking an interest in the environment and the outdoors again. Its capable on-demand four-wheel drive made it an excellent choice for middle-class buyers in America's snowbelt and the empty stretches of the mountainous West. It's comfortable and stylish interior and safety features made it an excellent choice for everyone else. While the Grand Cherokee is capable, most never leave paved roads. They are comfortable daily drivers that promise capability and safety while carrying the family and a load of groceries or towing the boat to the lake for the day. Someone at Jeep probably used their Grand Cherokee to tow their race car to the track on weekends, then – as these things usually happen – after a few beers and some good pizza, began to wonder if you could modify the Grand Cherokee so that it could actually RUN at the track.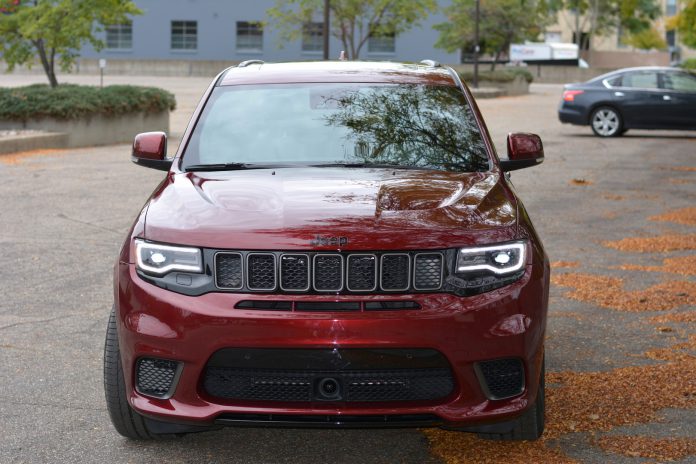 This idea was probably furthered during a late night at the office while working on another project. Other Jeep and Chrysler engineers probably enthusiastically jumped onboard the "What If" session and the ideas started flowing. The end result is incredible. What they ended up with was a Grand Cherokee with an electrically adjustable Bilstein active-damping race suspension system, massive Brembo anti-lock performance brakes, and sticky steamroller-width Pirelli P-Zero performance tires. But what to power it with? Why not the 707 hp supercharged 6.2L Hemi V8 SRT Hellcat engine? That should move the heavy SUV along with some pep. I suspect that many beer cans were bumped together to cheers over this idea. But how to sell it to management? One good double-dog dare later and the project was green lit for production. God bless America and the employees at Fiat-Chrysler.
That, in a nutshell, is what we have here. It defies all your pre-conceived notions of what a Jeep is, what a Jeep should be, what a Jeep CAN be. People we explained it to were confused, scared even. "707 hp in a Jeep?! That's ridiculous! That sounds dangerous!" It does actually. But does it work?
Good Lord, does it ever! We're flying down a tree-lined backroad, exceeding the speed limit by a quite a lot but there's so much power left to play with that it's mind-boggling to consider too deeply. And anyway, we're too busy looking waaaaaay up the road, watching for trouble. The suspension beneath us feels solidly planted. The roar of the engine explodes through the quiet country air, leaving it torn to ribbons of wind and sound as we weave through the curves on this delightful road. We pull the left paddle behind the steering wheel – yes, it has paddle shifters for its 8-speed transmission – to drop a gear as we approach a curve. There's little lean through the corner and as soon as we're through it we mash the throttle and the Grand Cherokee shoots up the road even faster before we upshift. Upshift again. The engine note drops but the sound is still ferocious. A squirrel starts to cross in front of us, but then thinks better of it and literally leaps back off the road. It wants no part of the Trackhawk or the incredible sound the big supercharged V8 makes. It sounds awesome. We're impressed and having a ball.
2019 Jeep Grand Cherokee Trackhawk Details
On the outside, it's easy to overlook the Trackhawk's defining features that make it distinct from it's more, ah, normal siblings. The black 20" wheels and the massive slotted brake discs and shoebox-sized yellow Brembo brake calipers are the biggest giveaways. The low stance is another. Only the most eagle-eyed observers will notice the four large exhaust pipes jutting out from under the rear valence. The slots in the front grill are shorter in height than on the standard model. There are an additional three horizontal slots beneath them. The other openings are all larger to duct more air into the hot engine bay. Overall, it's a very sharp and aggressive looking SUV.
Inside you'll find highly-bolstered leather seats, a thick grippy steering wheel, paddle shifters, and a very high-end feeling interior. Everyone who climbed into it immediately commented on how nice the interior was. And they're right. It IS nice. It's the kind of car you could drive all day and not grow weary. Especially with electrically-adjustable heated and ventilated front seats, a 19-speaker Harmon Kardon sound system, a heated steering wheel, heated leather rear seats and a huge cargo area. So it's very luxurious. Is it practical? It sure is. With the rear seats folded flat, the cargo area is enormous.
As nice as the Grand Cherokee is, the main attraction in the Trackhawk is the massive engine under the hood. The SRT Hellcat engine is amazing. Not terrifically fuel efficient, but amazing nonetheless. I've come to the conclusion that there's no problem in life that seven-hundred (and seven!) horsepower and six-hundred and forty-five lb-ft of torque can't overcome and render a faint memory once you've stomped the throttle. It simply explodes up the road. With launch control engaged, we managed a 3.7 second time to 60 mph. Mind you, this is in a 2.5 ton SUV. Utterly mind-boggling. Launch control will literally scramble your neural synapses, leaving you confused but giddy as a schoolgirl with a new crush, as it accelerates away from a dead stop. Passing distance isn't an issue. Mash the throttle and by the time your foot hits the carpet, you've already passed the slower car. Jeep says it'll hit 180 mph and while i didn't attempt it, I certainly believe it. And the sounds it makes – WOW. My knees get weak just listening to it idle. Make it roar and I nearly faint.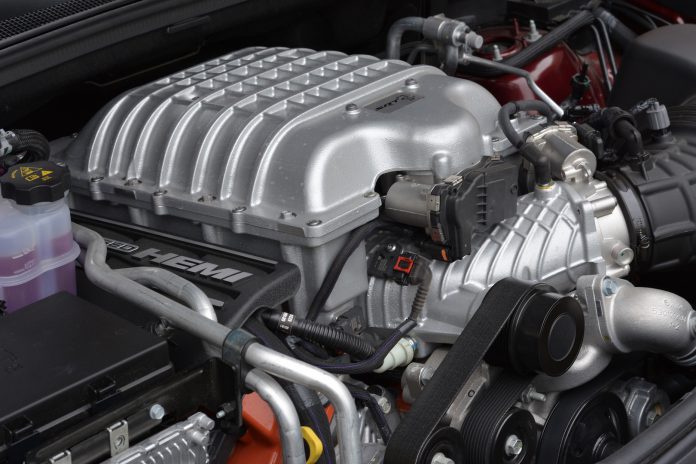 The Hellcat engine is mated to FCA's burly 8-speed automatic transmission that allows the driver to utilize paddle shifters behind the steering wheel. Left in automatic mode, it intelligently cracks off shifts and knows what gear to be in before you do. Eight speeds helps a bit with fuel economy, but it can only do so much with the thirsty Hellcat engine. We averaged 10.5 mpg while driving it, which is only a few mpg less than EPA estimates.
Bilstein's active damping race suspension is also nothing short of amazing. It keeps the ride firm but not harsh, eliminates almost all of the lean through corners, and virtually eliminates squat and dive. Bumps and potholes come through a soft jostles but aren't harsh at all. There are 5 drive modes that you can dial in: Normal, Sport, Race, Snow, and Tow. Sport and Race respectively up the ante as far as reducing computerized traction and stability control while quickening the responses of the throttle, steering, and transmission. Snow dulls that responsiveness and actively splits the torque 50% front and 50% rear to more capably and safely handle inclement weather and bad roads. This is different from the normal "4wd-on-Demand" that sends power to the front axle when needed. Lastly, Tow helps you pull a trailer by keeping the transmission in the torque band and using the engine to brake the load as much as the brakes themselves. It's capable of pulling 7200lbs, which isn't too shabby.
Did I mention the Brembo brakes? They stop this smooth but heavy brute easily and quickly. The six-piston calipers are enormous and straddle equally large slotted rotors that completely fill the empty space inside the barrel of the 20" wheels. They can be a little grabby at low speeds but man do they work well when you need them. The braking power can literally hang you up in the seat belts.
What flaws does it have though? Well, besides the abysmal fuel economy, none that we could find. And we weren't that put off by the fuel economy when we were reduced to hysterical tears of laughter every time we mashed the throttle.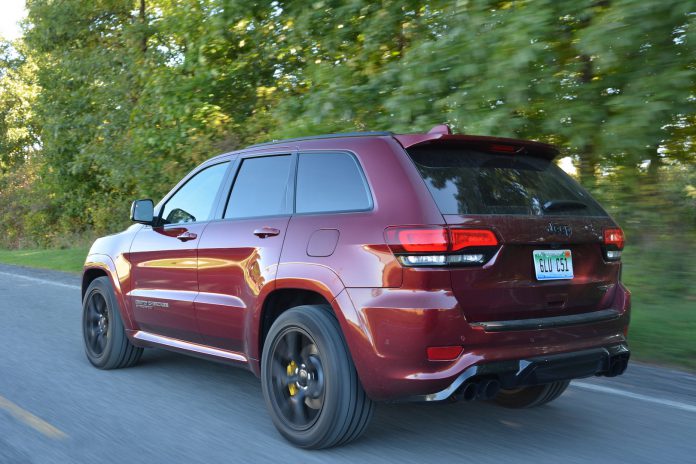 The Trackhawk starts at $86,200. Our test vehicle stickered at $101,610. Not cheap, but it's a LOT of car for the money and there are few family haulers as capable and versatile as the Trackhawk. You probably can't name another luxurious track-capable, towing-capable, family hauler that will do 0-60 in 3.7 seconds and top out at 180mph with a load of groceries and two kids late for soccer practice; let alone at that price.
I'm really not sure how the Jeep Grand Cherokee Trackhawk managed to get built but I'm glad it did. If it all started as I theorized, with an engineer wondering if a Grand Cherokee could make a decent track car, I'm sure he's pretty pleased with his little experiment. Trackhawk owners will be just as pleased with his idea. It seems crazy to build a 707 hp Jeep with serious track credentials, yet here it is and it's just that great. Here's to the engineers at Fiat-Chrysler for their enthusiasm that keeps we gearheads grinning.