The Fiat 124 Spider comes with a 1.4 liter four cylinder MultiAir petrol engine. It produces 140hp and 240Nm of torque. It is available with a 6-speed automatic and 6-speed manual gearbox. Our test car comes with the manual gearbox which does 0-100 km/h in 7.5 seconds (the automatic is 0.1 seconds slower) and it tops out at 217 km/h. The rear-wheel drive spider weighs 1.125 kg – it is this combination of low weight and rear-wheel drive that defines its character.
The Fiat 124 Spider forms a modern interpretation of the Fiat 124 Sport Spider which was built from 1966 until 1985. True to the 1966 original it is again offered with a 1.4 liter four cylinder engine and a long elegant bonnet and low seating position. The drawbacks of the beautiful proportions are a relative small cabin and small luggage compartment.
It is no secret that the Fiat 124 Spider shares components with the Mazda MX-5 and it is not being build in Italy but in Japan. Similar to Toyota and BMW sharing development of the Supra and Z4 it is a way for Fiat and Mazda to save costs on development which should deliver a better product at a lower price.
The interior is quite simple and elegant with clear lines and only the necessary buttons. The extensive use of leather gives it an Italian touch. The 124 Spider is certainly not a car for tall people – everybody over 1.80m in length will struggle to find a comfortable seating position.
People looking for sport buttons and electronic gadgets are in the wrong car. The Fiat 124 Spider is more purist than many purist Porsches. The roof can be opened manually with one hand by just flicking one lever and pushing it down behind the seats until you hear it click.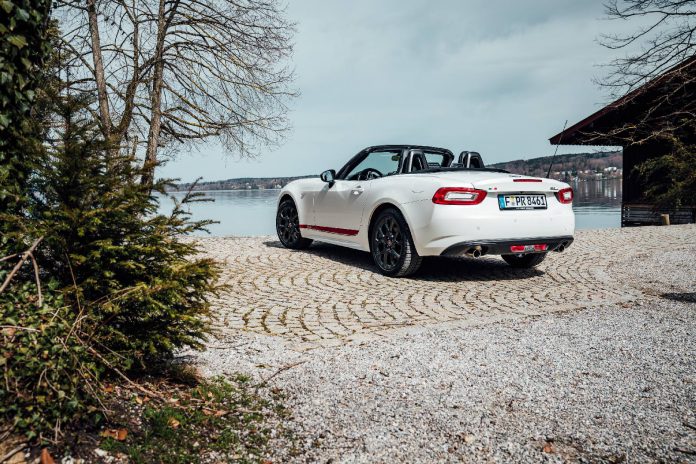 Performance wise you can't expect too much from the 1.4 liter engine. On my little autobahn run from Munich to Starnberg it took the entire length of the highway to reach just over 200 km/h. But it is not about top speed. It is about enjoying nice country roads with the roof down. And while doing just that along Lake Starnberg in Bavaria I'm enjoying this little Spider.
It is not the fastest but it steers and handles well, it draws a lot more attention than I would have ever imagined and it is very affordable.
One thing I truly miss with the Fiat 124 Spider is a proper sound. At no point through the gears and up and down the rev range did it sound good to me. And that is a real shame.