Mercedes-Benz Vans and Daimler Chief Design Officer Gorden Wagener unveiled a new vision for for future mobility. The aim? Envisioning a new form of transport that reduces the number of vehicles on the road and on parking spaces around the world. The solution? The Vision Urbanetic, a multi-purpose full-electric and full-autonomous platform that can be used as (shared) people mover and cargo transporter in cities around the world.
The design is very different from cars and vans as we know it. The pictures don't do justice to the sheer size of the vehicle which is slightly wider than a Mercedes-Benz Sprinter. The chassis platform also dubbed 'the skateboard' contains all the technology including the electric drivetrain and autonomous technology. Two different modules can be mounted on top – one cargo module which can carry small containers or pallets with goods and one passenger module which can carry up to 12 people.
Mercedes-Benz Vision Urbanetic
Gordon Wagener believes more modules are possible in the future but these two show the wide range of applications for the new platform. The passenger module can be used for ride sharing – a segment Mercedes-Benz is exploring already in cities like Berlin with Via Vans. Inisde there is place for up to 8 people on benches running in a half circle in the front and rear with more space for people to stand in the middle. The design is futuristic with LED lights running around the organically shaped windows. A 360 degree halo screen surrounding the round window in the roof provides information on upcoming stops. A smart algorithm defines the route depending on passenger demand.
It is possible for owners or possibly Mercedes-Benz itself to run the new vehicle exclusively as a people carrier but it can also swap it's passenger module for a cargo module in a matter of minutes. This way it would be possible to use one skateboard to drive people home after a party followed by supplying shops with cargo early in the morning after which commuters from the suburbs are brought to downtown. It's algorithm powered system is very suitable to close gaps in current public transport infrastructure and provide convenience to its passengers.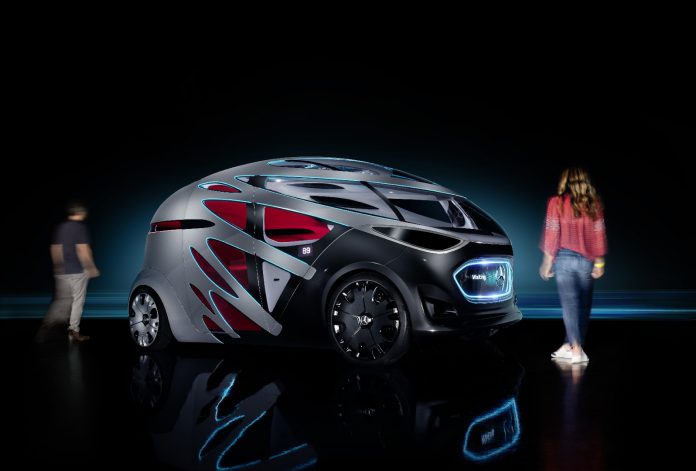 In terms of autonomy Mercedes-Benz Vans believes we will not go from where we are now to full autonomous vehicles overnight but start with full autonomous passenger transport at enclosed areas like airports or factory grounds. Followed by transport along pre-defined routes. From there it is another step to full-autonomous transport without pre-defined routes. But there is few doubts this will happen rather sooner than later.
I doubt we will see platform which will actually allow modules to be swapped due to the added complexity and associated costs but for both the cargo transporter and shared passenger transporter there are clear signs that there is demand for it.