Lamborghini have officially released details of their long await Aventador SVJ. The release comes at the start of Monterey Car Week 2018 and off the back of news that it broke the Nürburgring-Nordschleife lap record for production cars. What's more, a special edition version will be available of this special edition supercar!
The Lamborghini Aventador SVJ will make its debut today at "The Quail, A Motorsports Gathering". The Aventador SVJ, uses the traditional SV badging, adding the 'Jota' suffix. A special edition version, named SVJ 63, is also set to be unveiled on the concept lawn at the Pebble Beach Concours d'Elegance. It pays homage to Lamborghini's founding year of 1963 and will be replicated just 63 times.
Lamborghini Aventador SVJ
The newest generation of Lamborghini's V12 powered Aventador will be available in a limited edition run of 900 copies. Each will come fitted with a 770 hp naturally aspirated V12 engine producing 720 Nm of torque. Dry weight is reduced to 1,525 kg which will allow a 100 km/h sprint in 2.8 seconds and a 200 km/h sprint in just 8.6 seconds. Top speed is comfortably above 350 km/h.
Compared to the older Aventador SV, the SVJ gets a 40% improvement on downforce at both axles with an improved drag coefficient. Lamborghini have acheived this will a new front bumper incorporating side fins. The biggest improvement is achieved through the Aerodinamica Lamborghini Attiva (ALA) system. The upper body optimisation alone contributes to 70% of the downforce improvements.
 
You will notice bigger side air intakes and a new front side fin. There is improved underbody aero with vortex generators which work in conjunction with front diffusers and the extreme-design rear diffuser. The rear wing emulates the Lamborghini Veneno in design and the side winglets have been optimised to reduce turbulence. The exhaust system saves a significant amount of weight.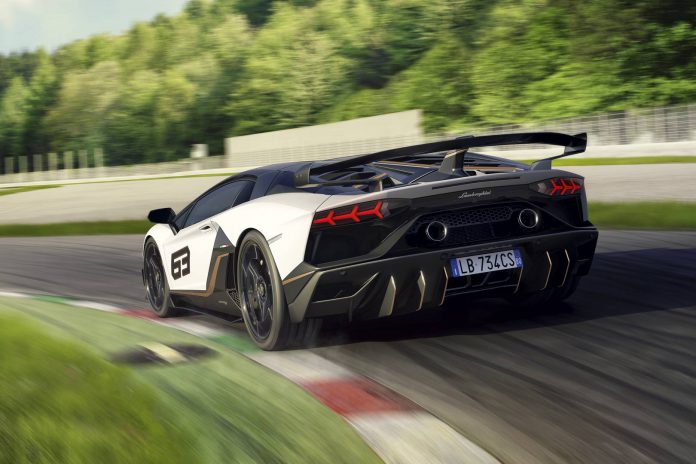 Lamborghini's new ALA system 'Aerodinamica Lamborghini Attiva 2.0' is its most advanced yet. It features new optimized air inlets and aero channel designs together with bespoke calibrations.
The Lamborghini Aventador SVJ gets a new titanium intake valve, a modified intake cylinder head duct and an optimized seven-speed Independent Shifting Road (ISR) gearbox. It's suspension is reworked with a 50% improved anti-roll bar and 15% higher damping force range. The SVJ also features Lamborghini's rear-wheel steering (LRS) and four-wheel drive system.
Lamborghini's driving modes, Strada, Sport and Corsa, are joined by an EGO option allowing custom setups. The Navigation System and Infotainment System include AppleCarPlay together with a Lamborghini telemetry system as an optional extra.
The first customers will take delivery of the new Lamborghini Aventador SVJ at the beginning of 2019. In Europe, it will cost 349,116 euros net of tax.