Anything that has a 'permanently excited motor' and inspired by the 918 Spyder must be good, or is it?!
The brief for the Special Vehicle Division at Porsche was to make the new Cayenne E-Hybrid performance focused with an increased electric range and they have certainly been working hard with new tech and more options.
Improvements in this new model include an extra 5 kW, (7 hp) from the 3.0 litre turbocharged V6 petrol engine taking it to 250 kW (340 hp). The 918 Spyder inspired electric motor now produces 8 km of extra range with 100 kW (136 hp) in electric only mode. It gets interesting when we see the effects of combining these forces together with a total of 700nm torque and a power output of 340 kW (462 hp) which is 34 kW (46 hp) more than the previous model. Accelerate hard and the effects of the hybrid drivetrain are immediate, this new luxury SUV feels every bit a Porsche. Engage Sport Plus to lower suspension, recharge boost faster, (more about that later), activate the sports exhaust, hold the gears for longer and it all tightens up to deliver a 0-100 km/h time in 5.0 secs or 0-60mph in 4.7secs with a maximum speed of 253km/h,157mph. Add rear-wheel steering and you have a Cayenne that can corner faster than most 2 seater sports cars and inspire great confidence.
2019 Porsche Cayenne E-Hybrid
The 918 Spyder has influenced a number of performance enhancements with the biggest being the Electric motor. 30% extra battery capacity goes from 10.8 kilowatt hours to 14.1 kilowatt hours and increases range and boost reserves to enhance the overall performance. Driving on all electric mode the new Cayenne E-Hybrid will cover up to 44km (27 miles) and reach a maximum speed of 135km/h.
Porsche's sport chrono comes as standard to enforce the performance characteristics although the stand-out feature is something that is normally reserved for supercars and now comes as standard in this luxury SUV. Manufacturers like Ferrari and Lamborghini call it a 'Manettino' or 'Anima' but Porsche call it… the 'Control System Toggle Switch'. Although it doesn't have a unique in this case, it does what it says on the tin as it's located on the steering wheel and enables the driver to toggle between Electric, E-Hybrid, Sport and Sport Plus drive modes. I found myself using this switch a lot to enjoy the full breadth of everything this car could offer. If playing with a toggle switch doesn't appeal then use the standard Porsche Innodrive system – simply input your destination in the Sat Nav and it will calculate the optimum drive mode for every part of your journey and preserve electric power for the traffic jams enroute and urban driving to help reduce carbon emissions.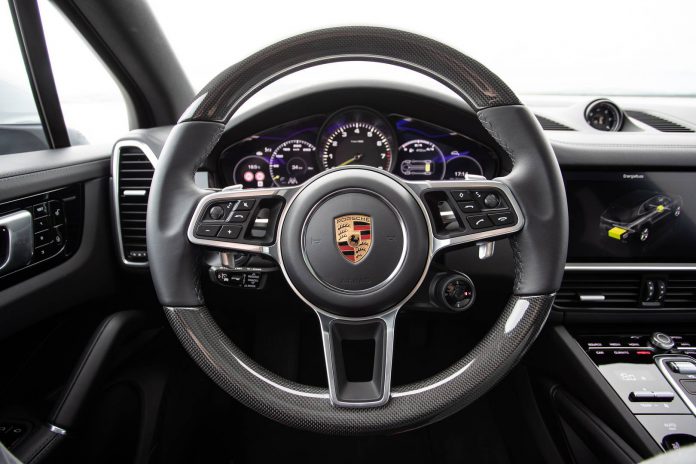 The Porsche Advanced Cockpit comes as standard with many dial options including, boost re-charge display other hybrid readouts, laser night vision and Porsche's very first heads up display. The 2 screens either side of the main speedometer can be changed independently by two small trackballs conveniently located under both thumbs on the steering wheel.
The last time I saw night vision in a performance car was Jackie Chans' car in the original 1980s Cannonball Run movie when Chan and his co-pilot turn off their lights and use night vision goggles to avoid unwanted attention. Unlike Chans' Cannonball car there is no rocket in the back of this new Cayenne although you maybe mistaken for thinking otherwise. Push the 918 Spyder inspired Boost button in Sport Plus mode (Porsche call it Sport Response), and all the power available is unleashed for 20 seconds. It soon becomes hard to know whether to focus on the horizon or the boost recharge dial or the night vision screen although either way you certainly get a good idea of what Jackie Chan would have felt when he pushed that launch button. 40 years later the rocket boost fiction is now a reality in a production car. With 700nM torque being the combined power of this upgraded power plant mated to the electric motor, it is very impressive as there is no lag under acceleration. With 'Boost recharging' in any drive mode you find yourself watching the dial and willing it to give you the all clear to hit it again. The only problem is choosing the right moment to use the rocket button again. It certainly looks like we are starting to see the gamification of performance driving for the first time!
The new Tiptronic S eight speed auto transmission is lightening fast and adds to the overall driving pleasure, more than the new central instrument display which has gone iPhone like with black laminated glass covering touch buttons. Like many modern cars today carrying out basic functions isn't immediately obvious although the large 12.3 inch touch display is a joy and provides an ergonomic and aesthetic dashboard. The window button was unusually stiff which will no doubt result in a few broken manicured nails and unfortunately the climate control in the press car didn't work. This was unfortunate as didn't get the chance to try the independent climate control which comes as standard to cool or heat the car before getting in.
Whether you are driving around the Nordschleife or stuck in a traffic jam you can enjoy a heightened state of mind and body whilst you enjoy one of the six massage functions Including Shiatsu mode. Other options include the 'Manoeuvring Assist Curb Warner' just brilliant as it's a camera and alarm that warns you of incoming curbs and definitely a must with the 22 inch alloy wheel option.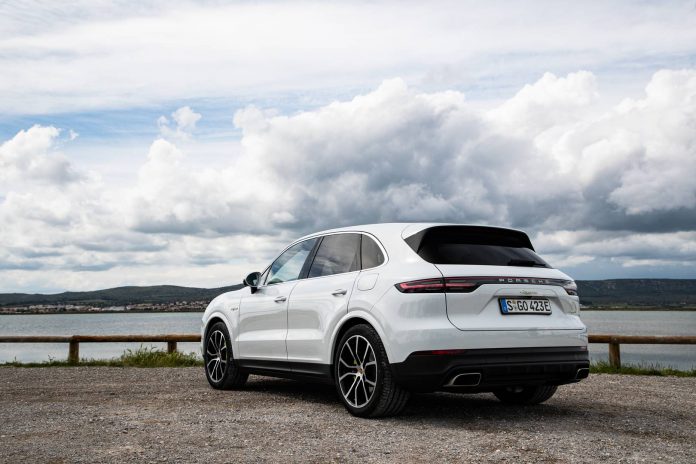 James Bond fans will remember the film 'Tomorrow Never Dies' when Pierce Brosnan drives his BMW 750iL with his phone around a multi-storey carpark which was actually Brent Cross Shopping centre near London. Porsche have made this fiction now a reality with the Porsche Connected Application and the Garage Pilot Function. A great party trick and useful if the parking space is tight, just hope the owners of the cars beside you don't come back before you can drive it out with your phone as they probably won't have it.
If you are looking for a performance luxury SUV then this should be high up the list, after all it will cater for any mood as one of the most versatile cars on sale today. With the turn of a toggle, be more relaxed or more excited, the choice is yours.
Words by Paul Tarantino