When Alfa Romeo returned to the US market in 2014, all they had to offer was the 4C – a tiny sports car with lust-worthy race car engineering that reflected 100+ years of auto racing heritage while declaring Alfa Romeo's intentions for their product line-up. Now Alfa has brought it's volume leaders – the Stelvio SUV and the Giulia sport sedan – to America's shores as well. We reviewed the Stelvio a few months ago (we liked it) and now we've had a chance to spend some time with the Giulia Ti Sport AWD.
The moment you see the front of the car, that V-grille tucked between the two flat ovals, you know it's an Alfa Romeo. It looks different than anything on the road. It looks unique, and that's good. Anything to stand out in this increasingly crowded automotive market. Alfa Romeo has nailed that part and they did it without even trying. All they had to do was integrate their classic tri-lobial grille into the design. The rest of the car is equally good looking: The muscular lines, the balanced proportions, the aggressive stance. Let's face it, it's a great looking car. Apparently, others thought so too because we had quite a few people stop and ask us what it was. A few even wanted selfies of themselves in front of it. Who were we to disappoint?
2018 Alfa Romeo Giulia Ti AWD Sport
Inside, the car is all business. The tones are muted and dark. There are few design cues to distract the driver. Everything is simple, clean, focused. It's very comfortable and has a very driver-focused feel to it. The seats are comfortable and electrically adjustable and heated. The bolsters are good around the torso, and even the smaller ones on the seat cushion provided good lateral support. Instruments are smartly laid out. The touch screen controller, radio controls, and Alfa's D.N.A. selector are grouped together behind the electronic shifter on the center console. Climate controls are above the center console on the dash. Above those is the infotainment screen. The Giulia has real analog gauges with a configurable screen between them. Some aluminum accents round out the design cues. And that's it. Not much to distract from the driving experience.
The steering wheel is an attractive semi-flat bottomed number with both cruise and radio controls on it. It feels good in the hands with palm swells at 2:00 and 10:00. The stop/start button is tucked into the middle, out of the way but readily visible. Behind the wheel lie the biggest, sexiest aluminum paddle shifters this side of a Ferrari. The left one has a "-" laser cut into it for downshifts and the right one has a "+" cut into it for upshifts. They click very positively when you pull them and they're very responsive.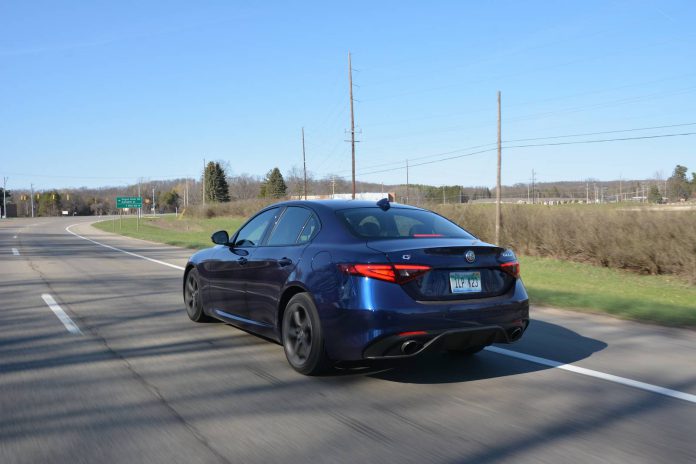 Speaking of responsive, the 2.0L direct-injected turbo motor is just that. While it sounds a bit rough and crude at idle, like any good Italian engine it's achieves some kind of glorious smoothness and refinement when it's working hard. The sound improves at speed. It keeps goading you to push harder, go faster, let it wind out. Which you want to do. The hard part is actually reining it in and keeping it at legal speeds. Acceleration is deceptively quick – you find yourself going 85 mph in the blink of an eye.
All that power gets routed through an 8-speed automatic transmission and a carbon-fiber driveshaft to all four wheels ala Alfa's Q4 AWD system.
And the suspension loves to take a set of curves. Freeway on-ramps and cloverleaf ramps are this car's raison d'etre. It quickly instills confidence as it builds lateral g's. Around town or on the freeway, it never feels caught out. It transitions from side-to-side without any upsetting motions and nimbly darts through traffic with ease. The only time it seemed to struggle was on uneven country roads. At slightly extra-legal speeds, over dips and crests, it felt floaty and uncontrolled, but really this isn't a car set up for track work or insane speed over secondary roads. No, Alfa Romeo has the Quadrifoglia version for that. The Ti Sport version is made to be a great everyday driver that will impress you in real world driving with it's performance. And it really does. The trick is to not let the engine talk you into going faster than what conditions will allow.
An engine like this one demands a great set of brakes and the Giulia Ti Sport has them. 13" vented rotors and Brembo 4-piston monoblock calipers front, 12.5" rotors rear and single-piston calipers rear. The calipers are gorgeous: painted Alfa Romeo red with "Alfa Romeo" in white script on them. They look stunning. They're not just for show either. They effortlessly haul the car down from speed very quickly – enough to hang you up in your seatbelt.
The car is fairly lightweight for what it is, coming in around 3,000 lbs. Lightweight materials were used, which makes everything feel (and sound) light. While this gives the impression that there's a "cheapness" to the car, a lack of solidity or quality, that couldn't be further from the truth. The car feels very solid and very well put together. We heard nary a creak nor a squeak the whole time we had it.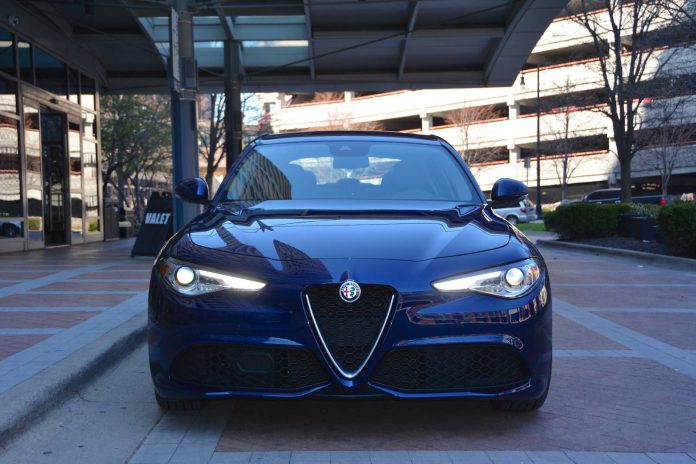 The Giulia starts at $41,000 USD, which is really a bargain for a capable Italian sports sedan with these looks. The model we drove totalled $46,000 USD, which surprised a lot of people in a good way. Compared to what else you can get for $45,000, the Giulia is a steal. You get a sexy, well-balanced Italian sports car with a touch of exoticness to it with performance to match. It's a no brainer.