Wilko Stark is the strong man behind Mercedes Benz EQ, Daimler's daughter brand dedicated to full electrics. The first model, the EQC, will launch before the end of the year. Stark is bullish about E-Mobility, yet he points out some of the issues that needs to be overcome – namely, an inadequate charging network and cost that exceeds conventional powertrain significantly. He sat down for a candid interview with GTspirit.de editor Jens Meiners. One thing was clear: A lot of components have to fall just in place in order for E-mobility to fulfill the hopes and promises of its proponents.
Mr. Stark, the situation of E-mobility seems a bit confusing. Where do governments and industry stand, given issues like the lack of charging stations?
Based on the upcoming CO2 legislations in China, Europe and the US we will see a share of electric vehicles of about 15 to 20% in global sales in 2025. Additionally, plugin hybrids will play a similar role. All major carmakers will electrify their product portfolio. We will see many product launches over the next years. Mercedes Benz EQ and Smart will come up with 10 electric vehicles until 2022. Moreover, we will roll out plug-ins over the whole product portfolio. Nevertheless, as you said, one of the major challenges is the ramp up of charging stations at home at work and at public.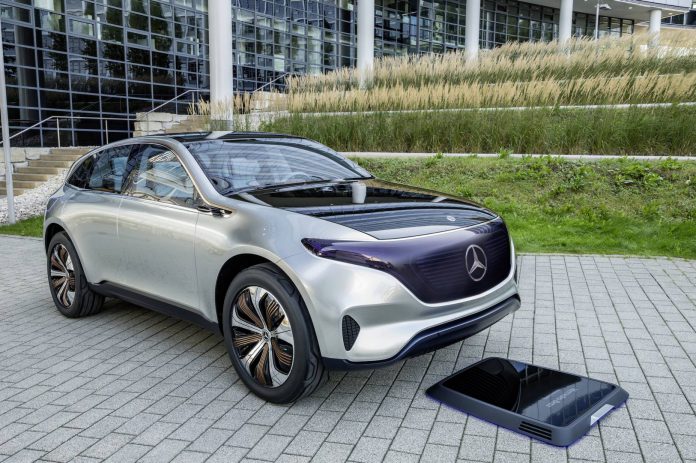 Will we see a well-to-wheel evaluation at some point or will governments continue to insist EV emissions amount to zero?
From a pure technical perspective the upcoming CO2 legislation in China, Europe and US can only be met if the electric range is calculated with zero C02 emission. In order to reduce the actual CO2 footprint of electric vehicles, governments have to push regenerative energies. This needs to be addressed by the energy utility companies and cannot be covered by the carmakers.
And you need to include the public. In many countries, e.g. in Southern Europe where the diesel is predominant, many people cannot afford electrics.
For the time being, electric vehicles are more expensive than combustion engine cars. We expect a cost advantage of electric vehicles somewhere around 2025 compared to combustion engines. However, there is already a clear tax benefit for electric vehicles in many countries, which is balancing the additional cost. We will see a stronger bonus / malus system in CO2 taxes in the different countries. The main challenge will be the ramp up of charging stations in the different countries. This will automatically lead to different EV mixes around the world.
How do you come to the conclusion of equal cost in 2025?
If you look at an EV with a dedicated range of 500 km like the EQC, which we will present this year, it clear that its battery and drivetrain system are more expensive than a comparable combustion engine. However, this is likely to be completely different in 2025. What we will see in most markets are decreasing prices for batteries. And further, we can still expect an annual increase rate of approximately 10 percent in battery energy density, even with the existing Li-Ion technology. The upcoming so-called post-Li-Ion technologies – like Li-Sulfur or even solid body batteries – might change the game completely again. This could also solve the challenges we see when we talk about the low supply of cobalt or other raw materials over the next 15 years.
Who will swallow the cost of electrification? Carmakers, energy providers, society? Will everyone's electricity bill go up?
We cannot predict the future, but it is likely that the government will react to the move towards E-Mobility. It is most likely that at a certain point, the currently existing bonus / malus system (which favours electrics) will be quit.
Will electricity get as costly as gasoline so governments can take in similar amounts of money?
As we have seen from other technological evolvements over the past 131 years since the creation of the first automobile, improved technology will always convince due to a higher overall efficiency ratio and therefore a better well-to-wheel balance in the end. Therefore, we can expect that the government as well as the complete ecosystem will react on that. An acceptable market price will develop in order to keep mobility – especially individual mobility – guaranteed.
How can your brand maintain profitability in this kind of an environment?
We clearly strive for a good profitability in everything we do, but it is a challenge for the entire industry especially in the ramp up phase of EVs. Based on the CO2 regulations, mobility especially in the EU might become more expensive for combustion engines. This will depend mainly on the various tax systems impacted by the new, stricter WLTP measuring cycle. But as I said, we will see a point somewhere around 2025 where the costs of battery electric vehicles will be comparable to today`s combustion engines.
How do you respond to the charge of human rights violations in harvesting the raw materials for batteries?
For many years already, we have defined very strict rules in our Supplier Sustainability Standards. Main aspects are areas like working conditions, ethical rules, sustainability and the respect of the human rights. We are consequently trying to keep our suppliers and their very complex distribution network to the highest standards of transparency in order to react on any misbehavior, which we will not accept.
Could battery swap systems make a comeback?
From my personal perspective, they do not make a lot of sense for a simple reason: In an electric car, the battery system is very expensive – and it will continue to be very expensive in the next years. If you want to set up a changing system, you will have 1.2, 1.3 or 1.5 batteries per vehicle, so costs will get even higher. Having an intelligent grid that knows when the driver will arrive and what kind of charge he needs, will be far advantageous. If you take the daily commuter who is just driving 50 to 80 kilometers per day, an EV works perfectly. Right now mobility is changing faster than we have ever experienced before and this is the reason why we are investing not only in cars but in the overall eco system to shape the future of mobility. In two to three years, you will see a completely different picture.