Ability is a wonderful thing. Knowing that your Omega is capable of keeping time on the moon with scientific precision or that your Rolex Sea-Dweller will still tick 3,900 meters below sea level is hugely satisfying. That said, unless you are Buzz Aldrin, or Buzz Lightyear, you don't go to the moon with your Omega. Chances are you aren't reading this from the depths of the oceans either. There are so many examples of technological feats that we own and utilize in our daily lives that never get tested anywhere close to their limits.
The same applies to cars. You may well be familiar with a video that featured on The Grand Tour – the 991.1 Porsche GT3 using launch control will go from 0-100 km/h in less than 3.6 seconds. As the video below demonstrates, you can always use launch control…but you don't because you look a bit stupid. Chances are you've never gotten close to the top speed of anything more powerful than a Renault Twizzy.
https://vimeo.com/203691859
This is where breadth of ability makes all of the difference. Let's take the Bugatti Chiron as an example. Like a Rolex or Omega it can do the extraordinary – I don't need to remind you of the mind warping numbers. What makes a Bugatti special is that it works in extreme conditions but it does the basics just as well. You can happily cruise the streets of Monaco in extreme comfort, yet find that abandoned stretch of German Autobahn and you will scare your pants off! It's a great white with gummy bears for teeth.
Breadth of ability brings me neatly into the Bentayga's territory.  Let us forget horology analogies for a minute and consider dancers…naturally. The Bentagya takes you from the dainty ballerina wearing delicate pumps and simultaneously, places you alongside the street dancer wearing Yeezys doing the worm in a concrete skate park – staggering for a car which weighs 2,500 kgs.
Zaid Hamid - Bentley Bentayga
On a previous outing with the Bentayga, I experience its extreme abilities first hand, pushing the W12 Bentayga, on closed roads, from 0-100 km/h in just 4-seconds. I felt the 48 volt anti-roll system work its witchcraft whilst chucking the heifer through some twisty country roads. I even wade the super SUV through a muddy river and up some unbelievably muddy banks. Time and again I found myself repeatedly saying 'WOW' and 'Oh my' at how capable the car was. This was all well and good, Bentley had proved the multifaceted talents of the Bentayga in a controlled environment.
I couldn't help but feel that they had missed a trick though. So when Bentley called to offer me more time behind the wheel I accepted. "What are you going to do with it? Drive to the Alps? Maybe a testing mountain pass?". My response was not what I think they expected. "No and No, I just want to go shopping and give my grandmother a lift to her friends place". Why? Well as great as it is at blasting to silly speeds remarkably quickly and playing in the dirt, I can't imagine anyone doing either activity in the real world. Bentaygas are, in my mind, most likely to do the school run or take a city worker and his wife to the in-laws in the country for dinner. I lived with a Bentayga around Central London for a few days – and I fell for its charms.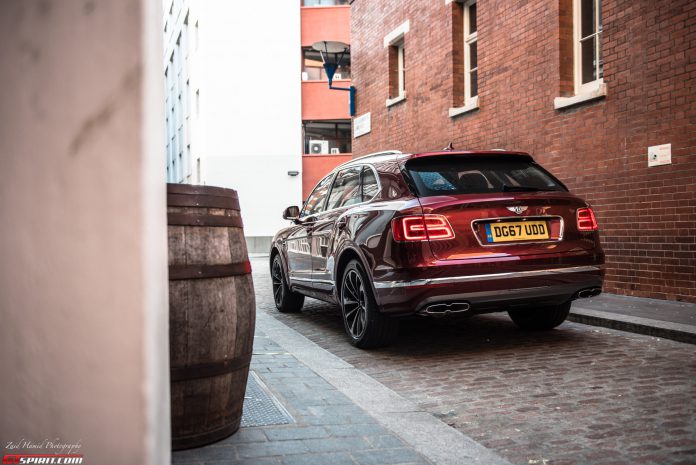 The car in question is the sensible option – the V8 Diesel. Yes, that blunts it's breadth of ability slightly. It's no longer the worlds fastest SUV – 0-100 km/h takes 4.8 seconds and it will 'only' hit 270 km/h. Power is down to 429bhp but there's 900 nm of torque from just 1,000 rpm. I think you will agree these figures still keep it in the realms of super SUV's.
I am at HR Owen – the official Bentley dealers in the UK. Paperwork signed, coffee drunk and key in hand – it's quickly clear that the car's talents are not the most important facets. It's the comfort, quilted leather and opulence where the difference is made. This is a huge car, one that should be intimidating to drive but it becomes the BFG thanks to the technology. With more camera angles than a Michael Bay film and driving assistance, navigating the narrow streets of London is a lot easier than you would expect.
Zaid Hamid Bentley Bentayga II
Time to collect my darling Grandmother. Her small suitcase looked almost inadequate in the gargantuan expanse of space that is the boot of the Bentley. It's late November and heated seats are a must. With Grans buttocks lightly toasted my thumb poked the steering wheel heating and within 15 seconds I feel more comfortable driving the Bentayga than in any car I can remember. The heads up display is keeping me informed of speed limits and active cruise control is handling the start stop traffic.
As I head onto the motorway the active cruise control pairs with the lane assist meaning both my ankles and wrists are at ease. It's so peaceful and quiet that I find myself looking for things to do. Apple CarPlay is hooked up – time to test the infotainment, 50 Cent has my grandmothers head bobbing as the bass shakes the rear view mirror. The optional, extremely expensive, Naim sound system with 1920 watt 21-channel amplifier, countless tweeters and 300 watt sub-woofer fills the double glazed silence impeccably.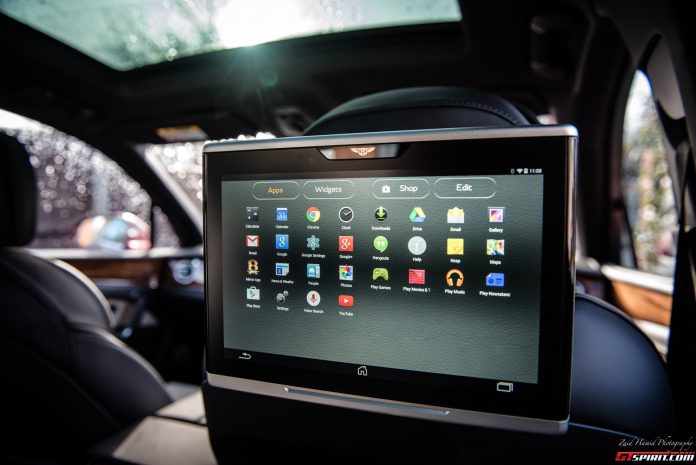 Sunday evening is family time in my household and that means collecting nieces and nephews. It is astonishing how honest children under 10 years of age are. As I pull up in the Bentley a seven year old nephew reacts to my arrival shouting "your car is big and ugly". Things swiftly change as I open a door and the infamous winged B motif is projected onto the pavement. It's all very Batman. Climbing into the Bentayga's rear seats also draws a very positive reaction, with attraction being drawn to the sizeable seatback tablets mounted to the back of the front seats. They run an android interface and are handy as they can both be removed and taken with you to meetings etc.
The luxuries don't stop there for those that find themselves in the back seat of the Bentayga. Whether you are 7 or 70, 4 ft 10″ or 6 ft 4″, chances are you'll have plenty of room to nose about and enjoy the leather plushness of the rear seats. They are heated and are on rails so can be slid forward and backwards. There is a very neat mini tablet that controls seat settings, entertainment, climate controls and a plethora of other options for those enjoying the rear seats. Looking up, there is a gigantic panoramic glass roof that works well with light leather options to make the already large space feel light and airy. As much as Bentley stresses this is a car that owners drive, I would be happy to be a passenger on a long journey in the back.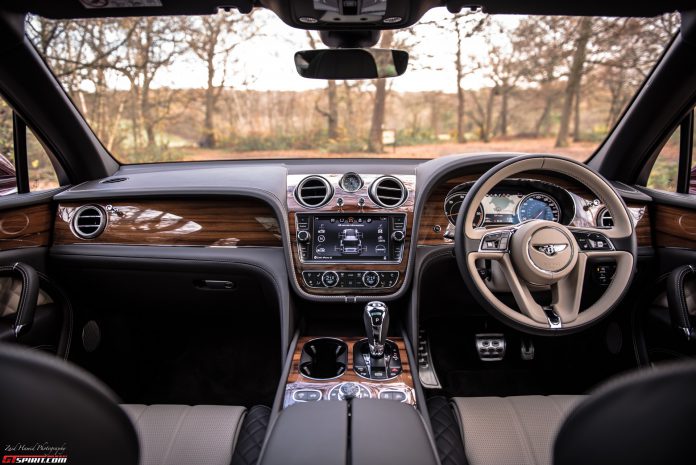 The breadth of abilities that I so wished to explore in the Bentayga are clear to see and enjoy. Bentley have made it possible to adapt the characteristics of the car to suit your style and circumstances with a myriad of driving modes controlled using the rotary dial. These include the off-road modes you would expect such as snow, wet grass and rocky terrain.
On the opposite side are road options – Sport, Bentley and Comfort. Sport firms things up a little, the steering is heavier and the transmission holds gears further across the rev band. Comfort has all of the opposite effects, everything is softer – it becomes extremely serene. Bentley mode is a firm yet comfortable experience which engineers believe is best suited to normal driving. Additionally, there is the Custom setting where a number of options can be configured to be mixed and matched to your preferences.
Zaid Hamid Bentley Bentayga III
It is clear that the Bentayga's strengths are suited to comfort, cruising and long distance drives. Whether you are navigating city traffic alone or ferrying the family to a Christmas dinner, you can be safe in the knowledge that there few cars on sale today that are so comfortable or versatile.
With the Lamborghini URUS promising to be a real supercar, or Super SUV, the Bentagya remains in a league of one – Range Rovers are no match on quality or exclusivity and we are still waiting to see what Rolls-Royce can do with the Cullinan.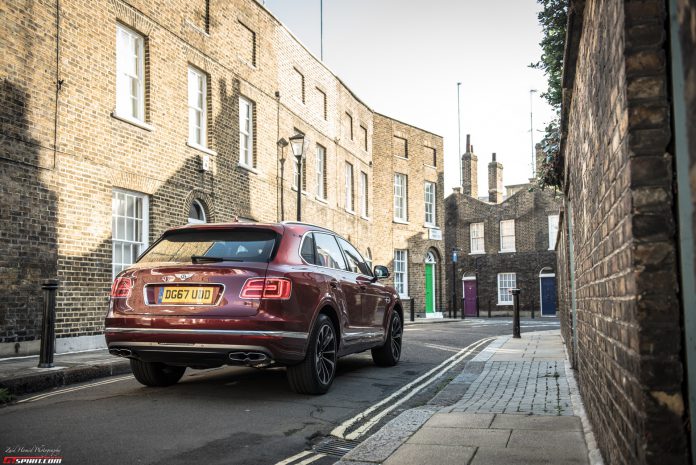 Many thanks to HR Owen for lending GTspirit this gorgeous Rubino Red V8. After spending just a few minutes in the capable hands of the HR Owen team it was clear that their knowledge and zeal for Bentleys sets the apart from other dealers. A true extension of the Bentley experience.