Reborn from the ashes of Gumpert, Apollo have officially unveiled their first production hypercar – the Apollo Intensa Emozione. The Hong-Kong backed company has created a completely bespoke hypercar. Lightweight, aerodynamically efficient and technologically advanced, Apollo are hoping the Intensa Emozione has what it takes to compete with the likes of Pagani and Koenigsegg.
Designed from a blank sheet of paper, the Apollo Intensa Emozione is said to be a modern interpretation of a GT1 car. It is said to blend GT3 with LMP, with a healthy dollop of emotion.
The Apollo Intensa Emozione is powered by a naturally aspirated V12 power plant. Power is fed to the rear wheels via a six-speed Hewland pneumatic racing dogring gearbox. The IE produces 780 hp at 8500 rpm and 560 lbs of torque at 6000 rpm. Those power figures translate into a zero to 60 mph time of 2.7 seconds and a 208 mph top speed.
Much like the SCG003 project, the Apollo Intense Emozione has been project managed by Manifattura Automobili Torino. They built the carbon fibre tub that underpins the Apollo. This includes carbon fiber front and rear subframes. The whole platform weighs in at just 231 lbs, contributing to the Apollo's total weight of 2,755 lbs.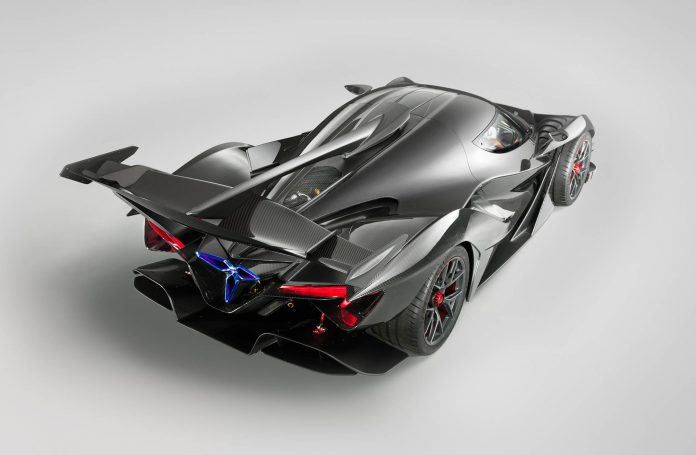 The bodywork speaks for itself. All-carbon fibre, it features a sensational aerodynamic package. Sharp front splitters and rear spoiler dominate the profile. Deep air intakes are plentiful and an insane central rear bridge links the roof to the spoiler. The exhaust is also distinctive, an intricate system consisting of three tips.
Apollo Automobil's first car will be limited to ten copies, each highly customizable. Pricing will start at $2.7 million dollars, built in Italy with global regulations in mind.