We stood around looking at it – big and green and intimidating – as if it might be preparing to attack us. It seemed to emanate a vibe of violence and savagery. We were intrigued. Oh, did we mention it was green? Man, was it green. Really, really green. Krypton Green, to be precise. Which was fitting, since it would be our Kryptonite for the next week, rendering us helpless to it's immense ability, charm, and presence.
The Camaro SS is already an immensely formidable car. Powered by the latest generation of Chevrolet's celebrated direct-injected 6.2L 16-valve V8, making 455 hp and 455 lb-ft of torque, the Camaro has fantastic power. Enough to run to 60 mph in just over 4 seconds flat. All that raucous power is transmitted to the back as God intended where it effortlessly spins the fat rear wheels. It's suspension is capable. It's brakes are strong.
2017 Chevrolet Camaro SS 1LE
To this already potent machine, Chevrolet added the 1LE performance package. This amazing package gives the Camaro firmer springs, the incredible Magnetic Ride Control shocks, an improved exhaust system that adds the most fantastic sounds you've ever heard this side of a race track, and oil, transmission, and differential coolers. The wheels are wrapped with ultra-high performance Goodyear Eagle F1 tires. Finishing out the look are a serious-looking matte black hood, black side mirrors, a black rear spoiler, black wheels, and a black splitter. Inside you'll find a suede-wrapped flat-bottomed steering wheel and shift knob within reach of the excellent optional Recaro seats. Did I mention that the 1LE package only comes with a manual transmission? It does. No sissy flippy shifters here. Just a big manly shifter, awaiting your orders.
The package transforms the car. Within mere seconds of pulling out onto the road, you sense you're driving something special. The car has a nervous energy to it, a wary poise, as if it's prepared for anything at all times. "You want to go right? Let's do it. You want to go left? Lemme show you what I got. Want me to stop on that dime? Forget it – we only stop for Benjamins." A tiny turn of the wheel imparts volumes of information to the driver about what the car and the suspension are doing. You immediately recognize that this car isn't all straight-line speed like pony cars of old; no, this car has moves and brought it's track shoes today. You know immediately that this car has abilities far beyond the standard SS. It wants to turn. It wants to corner. And it's good at it. Damned good. It seeks a track to be wrung out on, to be pushed; tested. More on that later.
The body is attractive. It's a muscular looking shape and mean, with swollen fenders and taut lines. Classical Camaro on steroids. The wheel wells are filled out with large 20-in aluminum wheels .The grill looks positively menacing and the low front spoiler looks all business. The car looks intimidating – the automotive equivalent of a stare-down.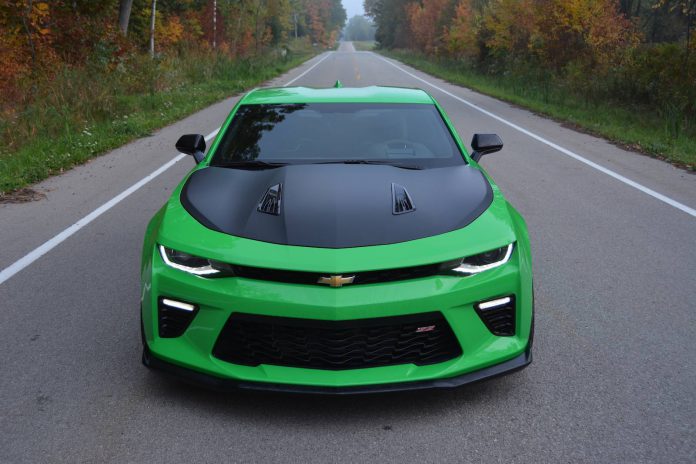 The two long doors open up to two heavily-bolstered Recaro front seats and two rear seats, though the rear seats are more decorative than practical, a place to put shopping bags or racing helmets. The monochromatic dash is attractive but understated, not distracting you with unnecessary frivolity but not making you settle for a cheaply made plastic molding either. Of particular note are the easy to read, easy to reach 8" touch screen and the large chrome-ringed vents whose rings double as knobs to control temperature and fan speed. Clever. It's a comfortable, focused environment. The view out is really quite good but it takes a little getting used to. There are some blind spots out the back, but the rear back up camera helps unblind it a bit. The short windows give one a feeling of anonymity that only encourages you to let your inner hooligan out to play. You want to just stomp the gas peddle and leave black rubbery lines all over town.
Not that you can't drive it sedately. You can. I commuted daily in it for a week and did just fine. Of course, I got to work much, much quicker in the SS than I usually do. So much so that I had to start leaving much, much later. Unless I took a long, winding back road. Then I usually arrived late and looking forward to the next chance to go out driving it again.
Starting the car is a delight. A jab of the big red Start button winds the motor to life with a pipe-cleansing roar that settles into a rumbly, throaty idle. A jab of the accelerator induces a loud snarling roar that pops and crackles on it's way back down to idle. The throttle is immediate, no hesitation, no stumbling, just immense glorious sound. This is one sweet sounding engine. The sound out of the pipes is perfect. PERFECT. You want to find the setting that opens up the dual-mode exhaust as much as possible. This is the exhaust sound other sports car try to emulate.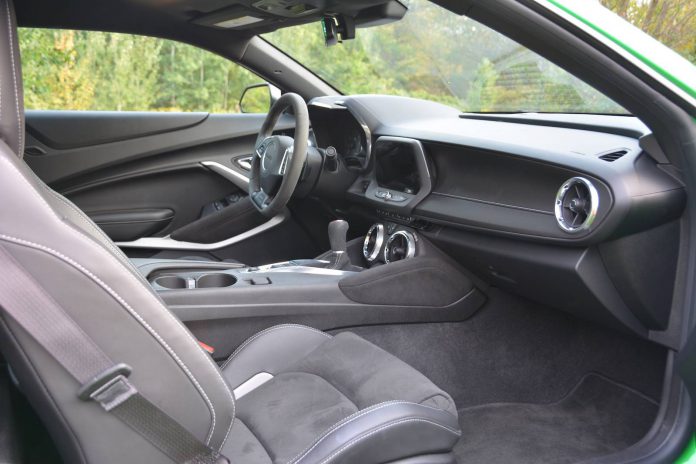 Chevrolet has incorporated some paddle shifter-units behind the steering wheel. These aren't for shifting but activate Chevy's "rev-match" feature. Turn them on and as you downshift, it blips the throttle automatically for you to match the revs (natch). It seems a bit hokey and disingenuous at first, but I found myself using it regularly just because I enjoyed the sound so much.
The manual shifter feels great in the hand. The clutch is solid and surprisingly light. Slip the shifter into first, let off the clutch and the car steps off with confidence. Lean on the throttle a little and the car rushes ahead up the road, growling. Nail it and the torque kicks you in the back as the car lunges ahead and the growl develops into a roar. Clutch, switch up into second, release, and nail the throttle again and it starts all over. It never seems to run out of breath, and sometimes you're so surprised and mesmerized by the ferocity of the acceleration that it hits redline and starts banging the rev limiter before you think to shift. No matter where you are on the tachometer, there is huge torque ready to propel you into the next county. Instantly.
As much fun as the power is, the real fun occurs when you hit your first corner. Turn into it and the front of the car just grips and dives in, no questions asked. The car has an eagerness to turn in that's rare. It feels more track-oriented than everyday street-oriented, making every street feel like your own personal track. The Magnetic Ride Control shocks keep the car perfectly stable and poised at all times, soaking up bumps and potholes while providing excellent control. On every twisting road we drove, the suspension was never caught out, never flustered, but always in complete control. The shocks are simply magical.
But all this power and performance is nothing if you can't reign it all in. To that end, the car is equipped with Brembo brakes front and rear. The large 6-piston calipers up front and 4-piston calipers in back clamp down on the enormous 14.5" 2-piece front brake disks and 13.3" rear disks with enough force to bring the heavyish car to a stop in a shockingly short distance. The brakes have great feel, and are easily modulatable, with no squealing or fade. They're thoroughly confidence inspiring.
All these attributes equate to pure magic on the road. The roaring, snarling engine kicks the car up the road, the suspension handles any situation or curve you throw at it, and the huge brakes rapidly jerk the car to a stop. This all combines to make one extremely competent performance car. How competent? The car it most reminded me of is the Dodge Viper. Not because they look alike, but they drive so similar. They feel similar. The view out is similar. The sound is waaay better. It may not be as fast, but it's not far behind it either. Many cars today try to be all things to all people, with eco settings, "normal" settings, and performance settings. The Camaro SS 1LE is a performance car first, anything else second. What you see is what you get – a freakin' fast rocketship with racecar moves. Track time with this car would have been immensely rewarding and immensely fun.
The standard Camaro SS starts at around $38,000. Adding the 1LE package adds about $6,500 to the price but it gives you a car that is much more track capable than cars costing twice it's price. At it's price, it's a heck of a performance bargain and a serious driver's car.