IMSA were a company we would have been talking about 10 years ago. They acheived fame through a series of Lamborghini tuning packages, adding the typical blend of wings, vents and exhaust mods. Past the Lamborghini Gallardo and Murcielago, we hadn't hear much from them until they recently started teasing a Mercedes-AMG GT-based project.
The IMSA RXR One has now been officially announced. It's based on the Mercedes-AMG GTS. The RXR nomenclature apparently stands for Road X-tra Racing. It will be available as a limited edition package with each car tailored to customers individual taste.
No car will be the same as another! Owners will be able to choose, paint colours, with paint-to-sample available. Interior trim will be complete customisable. Beyond the bespoke nature of the package, IMSA have designed a package which focuses on key areas of the GT S package; weight reduction, power enhancement, chassis upgrade and aerodynamic enhancement.
The weight reduction applied to the IMSA car includes the carbon-fiber panels, although no further detail has been provided to back up claims that IMSA have shed a staggering 300 kg of weight! IMSA state that the RXR One now weighs in at 1,300kg.
In terms of power increase, the AMG 4.0 litre V8 has been reengineered with a lighter, more balanced modification to the factory-fitted crankshaft. Bespoke forged pistons, forged H-section connecting rods, a twin-row intercooler, new cylinder heads and an incolnel exhaust system push power up to 860 bhp and 1,000 Nm of torque.
To handle the power, IMSA modified the gearbox, fitting two additional clutches, a forged intake drive shaft, high-pressure valves, and an independent oil cooling system. Engine cooling is also significantly re-designed to allow the turbochargers their own independent water-cooled circuit.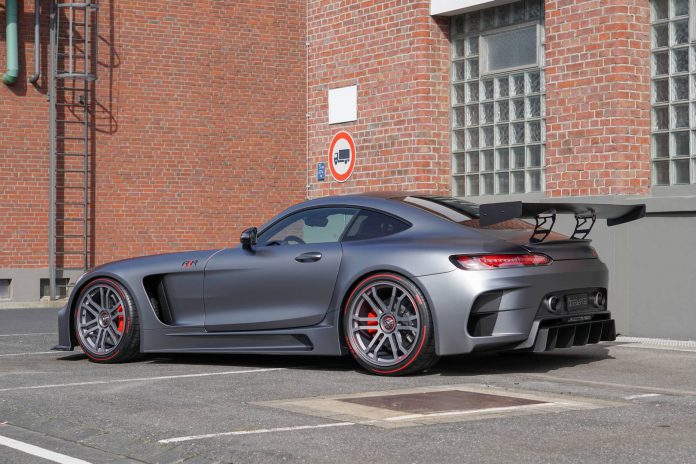 The chassis and suspension modifications are also extensive. Forged wishbone mounts with rose joints, revised forged wheel hubs, and uprated driveshafts replace the standard units. Competition springs and dampers also all fully adjustable bounce and rebound. IMSA alloys with Pirelli Zero Trofeo R tyres finish the chassis and suspension modifications.
Inside, a roll cage has been fitted together with a set of bespoke carbon-fibre sports seats, both featuring a six-pint safety harness.
Last but certainly not least, the IMSA aerodynamic package tells the causal onlooker that this a race car for the road. Developed using carbon fibre, it is fully CAD tested. The wings add 55 mm of width at the front and 65 mm at the rear. Side skirts, front bumper, bonnet, boot-lid, rear wing – all of these parts have been replaced.
There is no word on how many limited edition models will be available, or how much they cost. It is certain to be one of the most extreme modification packages on the market, discounting Mansory of course!